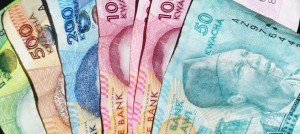 Malawi Kwacha firms against dollar
A report shows the kwacha remained stable holding still to the dollar in the month of August as the country managed to keep demand and supply of foreign exchange at equilibrium. The report also sites a relatively weaker dollar index and constant tobacco revenue inflow as being behind the good tidings.
But while the report shows prospects of a stable kwacha-dollar exchange rate in the next few weeks, the trend is not expected to hold for long, predicting the kwacha to begin depreciating again as the dollar regains strength.
The kwacha has been struggling to hold ground in the basket of currencies as revenue the country gets from its golden egg, tobacco, has continued to dwindle over the years. This year's tobacco market was one of the worst in history with rejection rates hitting 90 percent in worst weeks of trading, forcing the kwacha to go into a free fall.
Alliance Capital Limited Economic Review for the month of August shows the kwacha opened the month of August trading at a midrate of K719.09 to the United States dollar making only marginal losses in the first week of the month to rest at K719.36 to the green buck.
"The kwacha proved to be stable in August as the tobacco market provided the necessary support. We expect no significant change in the dynamics and the kwacha will maintain a tight grip on the dollar with support from tobacco inflows but also a relatively weaker dollar on the global market. However, we expect the kwacha to steadily depreciate to the Sterling following the strong resilience the UK is putting up."
In the same period, the kwacha is shown weakening against the basket of currencies, even reaching a record low of K54.26 to the rand midmonth before advancing some gains to close the month at K49.68.
The report also shows the local unit had mixed movements against the British pound as it continued to make some gains before reversing the circle around midmonth giving up its earlier gains to close the month at K941.29 to the pound.
Experts, however, expect the kwacha to depreciate further in the coming months as a result of low inflow of foreign currency due to poor performance of the tobacco market sales, low levels of investment and a persistently high inflation rate.
Press Corporation Limited, for instance, has forecast the kwacha to further depreciate to K800 against the US dollar by December.
Meanwhile, the country's gross foreign reserves position remained precarious closing the month below the internationally recommended three months imports cover.
Alliance Capital quotes official reserves at $610.24 million, representing 2.92 months' worth of import cover as at August 31 from $620.67 million, representing 2.97 months of import cover in July 2016.
(Visited 75 times, 75 visits today)
Latest posts by Vanessa Banda
(see all)