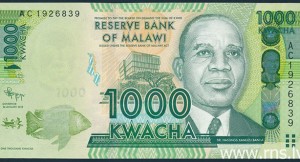 Malawi Kwacha threatens revenue collection
The Malawi Revenue Authority (MRA) says the recent depreciation of the Malawi kwacha could negatively affect revenue collection, especially on import duties which have already started dropping due to reduced imports.
MRA publicist Steve Kapoloma said in an interview that while the authority remains optimistic about meeting revenue targets, the fall in the value of the kwacha poses a threat to revenue collection.
He said although MRA had not done a comprehensive analysis of the trend, there has been a drop in the collection of import and excise duties which can be linked to depreciation of the local currency.
"We have not been doing very well in terms of import and excise duties due a general slowdown in imports," said Kapoloma.
He said currently, most businesses have taken a wait and see approach and are not importing, hence, the revenue target from import tax line missed.
MRA collected K96.47 billion in tax and custom duty revenues during the first two months of the 2015/16 financial year, which is one percent less than the target for the period.
This was mainly attributed to underperformance in corporate and trade taxes.
Despite the challenges, Kapoloma said, however, MRA still looks forward to meeting the desired targets by end of the year.
"We are putting in place other specific strategies to make sure that we continue to provide to government what it requires to implement the budget," said Kapoloma.
"There are areas where we can improve. As you will notice in the month of July, we managed to collect some millions above the target," said Kapoloma.
(Visited 1 times, 1 visits today)
Latest posts by Vanessa Banda
(see all)