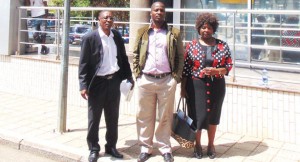 Malawi learns from Ethiopia
A Malawi delegation is in Addis Ababa, Ethiopia for a study tour of how Ethiopia has used the commodity exchange system to improve agriculture production and trading and earn billions of dollars in foreign exchange through exports.
The delegation, comprising officials from the Ministry of Industry and Trade, Ministry of Agriculture and from AHL Commodities Exchange (AHCX), is being hosted by the Ethiopia Commodity Exchange (ECX) and the Malawi Embassy in Addis Ababa.
Ethiopia and South Africa boasts the best established commodity exchanges in Africa and many African countries are now learning from the two countries as they attempt to organise their commodity markets and increase earnings from agriculture exports.
Ethiopia started its commodity exchange in 2008 and has since earned US$5 billion in export proceeds through the market where farmers are selling produce such as coffee, sesame seeds, white pea beans, maize, wheat and others to both local and foreign buyers in an organised and transparent system.
"Commodities worth US$20 million are traded through this market every day, thereby providing sustainable earnings to farmers, traders and the economy," said ECX senior manager for corporate communications Tewodros Assefa.
AHCX general manager Davis Manyenje said the commodity exchange system in Malawi has the potential to transform Malawi's agriculture production and marketing and put into practice efforts to diversify the economy.
"This market can earn Malawi over US$1 billion a year if well developed and organised," said Manyenje.
He said, however, there is need for an enabling policy and regulatory framework that would provide confidence to traders and investors in the market.
"In Ethiopia for example, no one is allowed to export produce without going through the commodity exchange. The exchange helps authorities to ensure that all export proceeds come back into the country. And farmers are able to easily access finance because banks are assured of getting back their money through the exchange," said Manyenje.
He said the trip to Ethiopia is part of the learning process as Malawi is still working on developing its commodities market to full scale.
The delegation was on yesterday joined by AHCX board chairman Evans Matabwa and Malawi's envoy to Addis Ababa Chimango Chirwa for the signing of a cooperation agreement between AHXC and ECX that will enable the two market shares knowledge and experiences on commodity trading.
(Visited 21 times, 21 visits today)
Latest posts by Vanessa Banda
(see all)