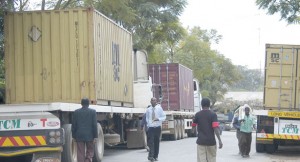 Malawi, Mozambique discuss transit hurdles
Malawi and Mozambique held bilateral trade talks in Maputo, Mozambique on Wednesday where they, among other things, discussed problems Malawian transporters face when moving goods to and through Mozambique.
The two countries have since agreed to cut time and cost of doing business between them and also committed to enter into a memorandum of understanding which will require a publication of all the costs involved in trade transactions between themselves.
The meetings were held on the sidelines of President Peter Mutharika's state visit to Mozambique where he attended the county's 40th Independence cerebrations on Wednesday.
Minister of Industry and Trade Joseph Mwanamvekha told a media briefing in Maputo after the meeting with his Mozambican counterpart Armando Inroga that there are a number of tariff and nontariff barriers hampering trade between the two neighbouring countries.
"We came here to discuss tariff and nontariff barriers affecting trade between the two countries. During the meetings, it transpired that there is need for transparency and accountability," said Mwanamvekha.
This, said Mwanamvekha, would help to address challenges facing transporters, which includes issues of toll fees when the haulers are moving across the borders of the two countries and while in transit through the other country.
"For example, when a transporter is travelling from Blantyre to either Beira, Nacala, Quilimane, they pay toll fees several times. They pay at Zobwe, Zambezi and Tete and also when they reach the port they also pay parking fees and port fees, this increases the cost of our imports and exports,'' said Mwanamvekha.
He said the two governments will soon introduce One Stop Border Post to help reduce the time taken to process documents between the border posts of the two countries.
Mwanamvekha said the meeting further discussed the need for a single window initiative that can help the two countries to gauge the volumes of trading activities taking place between them.
"This would help us monitor goods and services taking place between us. Within the single window, we have also what we call a trade hub, where we should be able to collect information as regarding imports and exports. As, of now, we cannot say with certainty how much import and export passes through our borders at a particular time," Mwanamvekha said.
The meeting, according to Mwanamvekha, also discussed a Simplified Trade Regime (STR)- an initiative that can stimulate trading activities for Small and Medium Enterprises involved in cross border trade.
"We want to simply trade by small scale traders. These are people in the border districts like Mulanje that go to Mozambique for business. We want to simplify how they do business by reducing the time they spend at the border," said Mwanamvekha.
To this effect, said Mwanamvekha, the Malawi government will reduce tax threshold for goods from Mozambique that will attract duty from K350,000 to K1 million.
(Visited 10 times, 10 visits today)
Latest posts by Vanessa Banda
(see all)