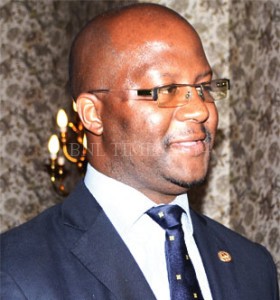 Malawi needs US$7bn to meet energy demand
The country needs a total of US$7 billion (about K3.6 trillion) investment in energy to meet growing energy demand by the year 2030, the Ministry of Energy has said.
Energy Minister Atupele Muluzi disclosed the figure in a presentation titled 'Building Public Private Partnerships in the Energy Sector: A Case of Malawi' delivered at the recent High Level Forum on South-South Corporation on Sustainable Development held in Johannesburg, South Africa.
Muluzi said energy is critical for any meaningful economic development, adding that sustainable development would require a huge amount of energy.
"In 2014, the economy is estimated to grow at 6.5 percent. Malawi`s population is now at about 17 million, with an estimated growth rate of 2.8 percent. Only 9 percent of population has access to electricity.
"To sustain the economic growth, the country will need massive investment in the energy generation. To increase access to energy, the country will need again massive investment in the energy generation, transmission as well as distribution," he said.
Muluzi told the forum that Malawi's current electricity demand stands at 400 Mega Watts (Mw) with installed capacity standing at 351mw.
According to Muluzi, it is projected that demand will be 420Mw in 2015, 1,000Mw in 2020, and 1750Mw in 2025 and 2,550Mw in 2030 under moderate growth scenario.
He said the US$7 billion will require three forms of investments with both IPP and PPP investment accounting for 60 percent or US$4.2 billion.
Internal government and Escom investment would cater for 20 percent or US$1.4 billion, according to Muluzi with donors contributing 20 percent or US$1.4 billion.
Among others, by 2030, the mining sector would require an estimated minimum of 800mw with manufacturing and processing consuming about 700Mw.
Domestic demand is estimated at a minimum 700Mw while the service sector and the green belt initiative requiring a total 630Mw.
"The role of PPPs in the development of a country cannot be ignored. The PPPs model of economic development has assisted in areas of infrastructure development.
"Generation of electricity will require participation of PPPs as well as IPPs. The country will require building capacity in Wind PPPs, Solar PPPs, Geothermal and other forms of energy PPPs. Both IPPs and PPPs will play significant role in energy generation," said Muluzi.
Latest posts by Vanessa Banda
(see all)