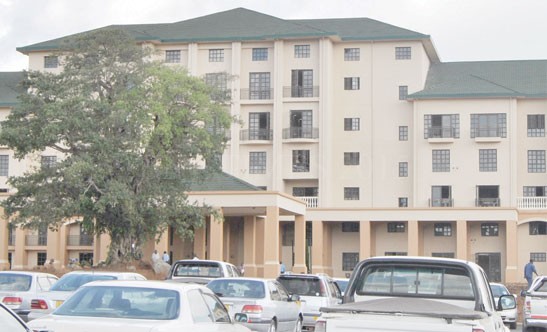 Malawi News Agency Online – Riverside Hotel eying to be star ranked
Lilongwe, May 15, 2015:
Riverside Hotel and Conference Centre says it will keep in place strategic plans in a bid to enable the further growth of the hotel and earn its place amongst the star ranked hotels, and in the process; help in the growth of the tourism sector in the country.
Hotel Manager James Kaliati made the sentiments to Malawi News Agency on Wednesday in an interview.
He disclosed that since the hotels inception 12 years ago, the hotel has made tremendous accomplishments in improving its standards for its customers and Malawi's tourism sector.
According to him, apart from the hotel now having 120 rooms; the hotel has established itself as one of the hotels whose services are being sought after by local and international clients and hopes will soon be amongst the star ranked hotels in the country. "We have all what it takes to be amongst the best hotels in the country. Our hotel boasts of a friendly staff, a local and international cuisine restaurant and is conveniently located in the capital city. "The hotel is located at a position where it is very easy for our customers to access important facilities like banks and other areas worth to be visited," he said. According to him, the hotel which boasts of having 5 conference halls and offers airport pickups and drops has not only made its mark in the tourism sector but also in helping create jobs as it now  boasts of employing over 60 Malawians.
He further said despite challenges being faced in the sector, including the mushrooming of lodges across the city and paying of taxes before customers have actually made their payments, the hotel will keep on finding amicable solutions to benefit the hotel, its employees and the tourism sector as a whole. "Despite the various challenges, we cannot come up with negative plans or decisions that may end up with people losing their jobs. "But rather; we shall always try harder to solve challenges that may come our way in a way that everyone keeps their jobs, leads to the growth of the hotel and the tourism industry, "said Kaliati while thanking government for recognizing hotels as one of the foreign currency earners in the country.
"As of now, we will keep working hard to improve on what we have like the best kitchen, restaurant, rooms with modern facilities so that our services may be ranked by the government. However, with what we have; we are already ready for government to rank us," said Kaliati. Dalitso Nyirenda, Sales executive for Riverside Hotel says the growth of the hotel has also been achieved due to the support from its clients. "The support we receive from our clients has given us this room of expansion. We will do all we can to be of better service to them and the tourism sector as a whole," she said.
Let us know what you think of this update and remember to add us on our facebook and follow us on our twitter.
Make sure to come back daily for more awesome updates.
Quick Links: Malawi Banking News | Malawi Technology News | Download Business eBooks | Ten Signs You Are An Entrepreneur | What is a Managing Director?
Today's top business story: Top Commercial Banks In Malawi
Latest posts by Vanessa Banda
(see all)