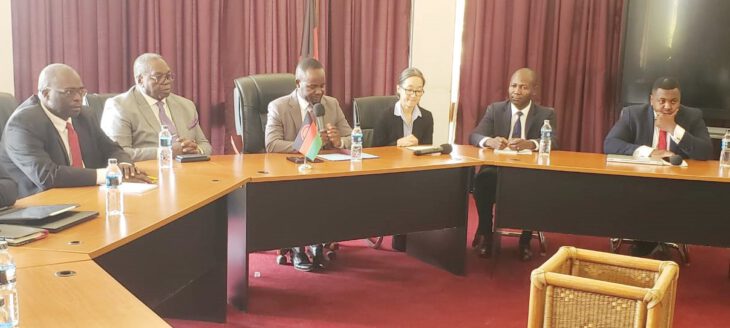 Malawi poised to get $174m under new ECF
Malawi is set to unlock $174 million (about K195 billion) staggered over a four-year period after local authorities and the International Monetary Fund (IMF) mission team agreed on a set of economic and fiscal policies to be supported by a new Extended Credit Facility (ECF).
Speaking to journalists in Lilongwe yesterday, IMF deputy division chief in the African Department Mika Saito, who is the mission chief, said the funds will be disbursed over a four-year period.
Gwengwe (3L) and Saito (3R) address a news conference as others look on
The approval comes after the IMF team and local authorities reached a staff-level agreement on the second and final review of the Staff Monitored Programme with Executive Board Involvement (PMB), which will expire next month.
Saito said the agreement is subject to IMF management and Executive Board approval scheduled for mid-November this year and receipt of "the necessary financing assurances" by Malawi's partners and creditors.
In her statement, Saito said the IMF-supported programme will strive to "restore macroeconomic stability, build a foundation for inclusive and sustainable growth and address weaknesses in governance and institutions".
She said: "Fiscal policy will aim at achieving a debt-stabilising primary balance in the medium-term through a package of expenditure adjustment and revenue mobilisation measures.
"Monetary policy will remain anchored on containing money growth. It will aim to tame inflation by ensuring positive real interest rates."
Speaking at the same press conference, Minister of Finance and Economic Affairs Sosten Gwengwe said the proposed ECF agreement will complement the government's efforts to stabilise the economy.
"This route catalyses not only grant financing from our cooperating partners, but has a huge signalling impact for foreign direct investment and brings general business confidence for employment and wealth creation," he said.
Gwengwe further said the African Development Bank and the European Union have already committed to resume direct budget support and were only waiting for the ECF programme.
Gwengwe said the IMF-supported programme will target public finance management reforms that will ensure that local resources are "tracked, reported and targeted appropriately" as well as public debt management reforms to support debt sustainability and revenue reforms aimed at broadening the revenue base and enhancing tax efficiency".
Reacting to the development, Joseph Mwanamvekha, former minister of Finance in the erstwhile governing Democratic Progress Party, said government should be commended for securing the ECF, but stressed that it was not a panacea to all the country's problems.
He said government has a long way to successfully implement the policy reforms under the agreement, including maintaining positive interest rates and realigning the formal exchange rate with the informal exchange rate.
Said Mwanamvenkha: "Malawi has committed to ensuring that interest rates remain positive, so interest rates have to be higher than inflation. This will be tough because raising the policy rate further will push up the cost of borrowing, which will have repercussions on economic growth and job creation.
"Similarly, re-aligning the formal exchange rate with the parallel rate on the black market would also mean devaluing the kwacha. That can trigger inflation. So, these are all tough conditions that the Tonse Alliance administration will have to conform to."
Economist Bond Mtembezeka said the funds the IMF has committed will not be enough to mitigate the acute and protracted forex shortages that have plagued the country in recent months.
On his part, economic analyst and consultant Exley Silumbu said it would be a challenge for the government to implement spending cuts considering that most of its budget expenses are committed to statutory obligations.
To put it into context, the IMF-supported programme will pump in $43.5 million (about K49 billion) per year into the economy.
A staff-level agreement is a pact between a country requesting a fund-supported programme and the IMF Mission subject to IMF management and executive board approval and receipt of the necessary financing assurances before loans are granted.
The financing assurance means that the Bretton-Woods institution has to be satisfied that the programme financing is adequate to fill financing gaps during the program period to ensure external viability and to ensure that the member can repay the Fund after the programme period. 
Let us know what you think of this article and remember to add us on our facebook and follow us on our twitter. Come back daily for more Malawi business news.
Quick Links: Download Business eBooks | Ten Signs You Are An Entrepreneur | What is a Managing Director?
Latest posts by Vanessa Banda
(see all)