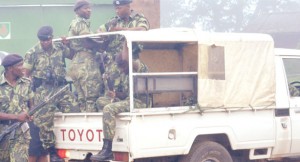 Malawi Police fees irk industry
The Malawi Confederation of Chambers of Commerce and Industry (MCCCI) has expressed reservations at the new fees businesses have to pay to hire police officers and firearms, describing them as misplaced and unjustifiable.
In a letter addressed to businesses dated August 10, 2015, the Malawi Police Services announced an increase in the fees for hiring a police officer to K10,000 from K6,000, representing a 67 percent hike.
The police has also hiked the cost of hiring a gun from K500 to K10,000 representing a 1,900 percent rise.
The charges are with effect from 12 August 2015, reads the letter.
Reacting to the development yesterday, MCCCI president Newton Kambala questioned why businesses should be made to pay high security charges when they already pay taxes.
"In fact, these services should be free. Why should businesses be paying allowances to policemen who will not even work overnight? I thought they just work for a few hours and go back to sleep at their homes?" wondered Kambala.
He noted that the cost of doing business in Malawi is already exorbitant, adding that the new development would only worsen the situation.
Kambala said the increase in the fees is as good as barring the business community from hiring armed officers, arguing that the new move makes buying a gun cheaper than hiring.
"This is likely going to promote cases of armed robberies on businesses as firms will be forced not to hire an armed police officer just to cut costs," said Kambala.
(Visited 1 times, 1 visits today)
Latest posts by Vanessa Banda
(see all)