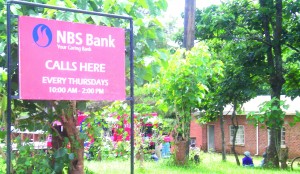 Malawi ranks lowest on financial inclusion
Malawi has scored poorly on the 2015 Brookings Financial and Digital
Inclusion Project (FDIP) Report and Scorecard which evaluates access to
and usage of affordable financial services across 21 geographically
and economically diverse countries.
The report, released on Monday, has ranked Malawi on position 19 out
of 21 countries surveyed.
The FDIP report comes at a time when the Finscope Report of 2014 pegged financial inclusion at 54 percent, with 33 percent of Malawians having bank accounts.
The countries received scores and rankings based on 33 indicators spanning four dimensions: country commitment, mobile capacity, regulatory environment, and adoption.
The FDIP Report and Scorecard seek to answer a set of fundamental questions about today's global financial inclusion efforts, including: Do country commitments make a difference in progress toward financial inclusion?
The report also tries to assess what extent mobile and other digital technologies advance financial inclusion. It also seeks to find out what legal, policy, and regulatory approaches promote financial inclusion.
Three experts, John Villasenor, Darrell West and Robin Lewis analysed the financial inclusion landscape in Afghanistan, Bangladesh, Brazil, Chile, Colombia, Ethiopia, India, Indonesia, Kenya, Malawi, Mexico, Nigeria, Pakistan, Peru, the Philippines, Rwanda, South Africa, Tanzania, Turkey, Uganda, and Zambia.
Malawi has scored highly, on 3rd position, on regulatory environment. The country ranks 12th on country commitment, 16th on mobile capacity and 19th on adoption.
The report has recognised Malawi for its efforts to advance access to quality financial products through regulatory mechanisms and various infrastructure initiatives.
Challenges to financial inclusion in Malawi, according to the report, include limited economic capital and telecommunications infrastructure, as well as fairly low literacy rates, income levels, and mobile and banking penetration rates.
Bankers Association of Malawi (Bam) President Misheck Esau said financial institutions are doing everything possible to bring as many people as possible into the banking system.
(Visited 8 times, 8 visits today)
Latest posts by Vanessa Banda
(see all)