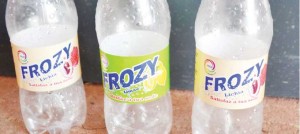 Malawi Revenue Authority warns Frozy smugglers
The Malawi Revenue Authority (MRA) has warned that it will impose heavy fines on traders who are smuggling Mozambican fizzy drink, Frozy, into the country instead of making use of the existing trade protocols between the two countries.
MRA was reacting to reports on the influx of Frozy on the market. In an emailed response to a questionnaire, MRA Deputy Director of Corporate Affairs, Steve Kapoloma, said Malawi and Mozambique are both members of the Southern Africa Development Community (Sadc) and as such enjoy duty free status on some goods as long as certain conditions are satisfied.
Kapoloma said among the conditions, importers only pay Value Added Tax (VAT) because the two countries are in the Customs Free Trade Area.
"Secondly there is a bilateral Trade Agreement between Malawi and Mozambique. Goods grown, produced, manufactured from the two countries are allowed duty free entry as long as they have satisfied or fulfilled certain conditions.
"Therefore, there is no need for people to smuggle Frozy into the country. What they are required to do is to bring the Certificate of Origin for the product to be admitted duty free but will pay only 16.5 percent import VAT," said Kapoloma.
He, however, said there may be people who attempt to smuggle the product into Malawi due to porousness of our borders and ignorance of the above provisions.
Kapoloma said if such people are found with unaccustomed goods, MRA will seize the goods and impose heavy penalties.
"MRA is taking the issues of smuggling seriously. We would like everybody to pay duty in order to level the playing field. We have Flexible Anti-Smuggling Teams that work 24 hours conducting day and night patrols. We apprehend people who are found with smuggled goods or were attempting to smuggle.
"We also do sensitisation meetings along the borders informing people about the various trade protocols that businesses can benefit from, like Malawi-Mozambique Trade Agreement and the Sadc Trade Protocol," said Kapoloma.
(Visited 157 times, 157 visits today)
Latest posts by Vanessa Banda
(see all)