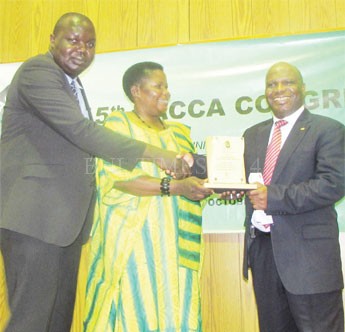 Malawi Saccos chief honoured – BNL Times
Malawi Saccos chief honoured
Malawi Union of Savings and Credit Cooperatives (Muscco) Chief Executive Officer Sylvester Kadzola has been recognized for his contributing towards the growth and development of cooperatives not only here in Malawi but also internationally.
Kadzola received the recognition during a Savings and Credit Co- operative Association Africa (Sacca) Congress that took place in Lesotho recently.
"I am really thankful for this recognition; it is a great honour to be associated with this great work that Saccos are doing all over the world. Saccos continue to change people's lives for the better," said Kadzola.
At the 15th congress which the African Confederation of Cooperative Savings and Credit Associations (Accosca) has been organizing for its member countries since the year 2000, Kadzola was also elected Board Member during a session of the association's general meeting.
On this election, Kadzola said he is humbled and indebted to all Malawian Sacco members represented by the 22 delegates that attended the congress.
"This recognition is for all of us because I could not have been standing here if it wasn't for your support" said Kadzola who is also board member for World Council of Credit Union's Board Member.
The Congress is organized with the aim of engaging with national and international stakeholders drawn from the cooperative sector.
Accosca, a non-governmental, Pan African confederation of national associations of savings and credit cooperatives societies, has a membership of 28 countries in Africa including Malawi.
Accosca also took advantage of the event to recognize individuals who have greatly contributed towards the accomplishment of its mission of empowering Saccos in Africa through financial, social and technical assistance so as to improve the livelihood of people living in Africa in accordance with cooperative principles.
Latest posts by Vanessa Banda
(see all)