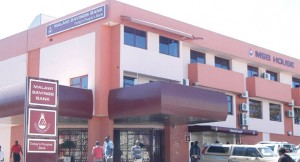 Malawi Savings Bank at risk of bank run
Struggling government, owned Malawi Savings Bank (MSB) faces the threat of a possible bank run, a situation where a large number of bank customers withdraw their deposits simultaneously due to concerns about the bank's solvency.
The Ministry of Finance has reported that almost K11 billion was withdrawn from the bank between February and April 2015 alone.
The sole shareholder in the bank, Malawi Government conceded in a statement issued in the press on Monday that the situation remains pathetic.
"As a result of the negative publicity around the transaction, MSB faced a real threat of bank run during February and April 2015. The bank's ability to trade was grossly weakened by the developments, which the court order of early April worsened," the ministry said in a statement.
According to the Treasury, government determined that the collapse of the bank would cost taxpayers about K30 billion in refunds against customer deposits and other liabilities.
Meanwhile, the Budget and Finance Committee of parliament is today expected to meet and agree the way forward on the sale of MSB.
The Committee's Chairperson Rhino Chiphiko said they delayed to present their findings on the proposed sale due to the issuance of promissory notes by government to neutralise toxic assets in MSB accounts.
"This brought in a lot of implications that needed to be discussed at length. The promissory notes made some of the recommendations invalid. We, therefore, needed to come up with a new position," said Chiphiko
Last month, government through treasury asked the Reserve bank of Malawi to issue K6 million promissory notes to cover the toxic loans.
According to an analysis by Fletcher and Evance, an independent advisory firm, government's stand to take up the toxic assets of the bank had the capacity to strengthen the bank's capital position and also speed up the recovery in its core business.
Latest posts by Vanessa Banda
(see all)