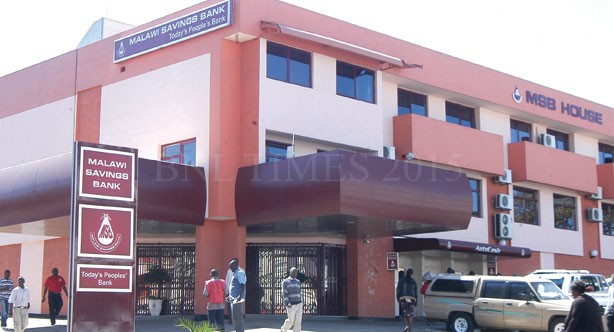 Malawi Savings Bank divestiture based on studies
The Ministry of Finance and the World Bank have explained that the recommendation on the prospective disposal of some government shares in Malawi Savings Bank (MSB) was based on various studies which established that the bank was not able to stand on its own financially.
Ministry of Finance spokesperson, Nations Msowoya, said in an interview that a routine analysis conducted by the Reserve Bank of Malawi, (RBM) under its commercial bank's supervision department, among other things, revealed that it was not in best practices for government to run banks.
Msowoya said under a project called Financial Technical Assistance Project (FITAP) which is being coordinated by the RBM, a cost-benefit analysis was also conducted to find out the financial soundness of the country's commercial parastatals with the ultimate aim of finding out the risks which the entities posed.
"It was through this analysis that two options came out. The first was capitalization and the second was selling. Government did not have the money for the first option and felt to go for the second," said Msowoya
In a separate interview, World Bank Malawi's Communications Manager, Zeria Banda, said the World Bank also financed a study known as "Transaction Audit" which recommended disposal of government shares in the bank to the private sector.
She said the study was meant to conduct a financial soundness analysis of all commercial banks in Malawi and that it also had a separate focus on MSB as a government owned entity.
"The study was meant to bring out options of either to re-capitalise the bank or reduce equity. It was up to the government to decide and they made a decision to follow the selling of the bank as their best option," said Banda.
The Public Private Partnership Commission (PPPC) in January this year called for strategic investors to bid for the takeover government's shareholding of MSB as well as Indebank – which are both government owned.
Minister of Finance and Economic Planning, Goodall Gondwe, told journalists in Lilongwe last week that that recommendations for the sale of MSB came from the World Bank and the International Monetary Fund as the is not able to financially stand on its own.
However, opposition members of parliament have spoken out against the decision to sale government shares in MSB and have asked the government to bail out the financially handicapped institution which is said to be in need of K4 billion to be adequately recapitalized and meet Basel II capital requirements of the Reserve Bank of Malawi.
Latest posts by Vanessa Banda
(see all)