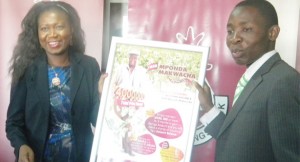 Malawi Savings Bank launches new promotion
The Malawi Savings Bank (MSB) has launched a K4million Mponda Makwacha promotion with the objective of developing a savings culture among local farmers.
The promotion will run from May 11 to September 25, 2015.
Speaking during the launch, MSB Marketing Manager Brenda Chilima said most farmers do not save earnings for use in the next season.
"The opening of the tobacco selling season and sales of other cash crops has brought joy to most farmers. Sad to note, however, is the fact that this joy is usually short lived by farmers because in the joy of the moment, many farmers forget to save for the next season.
"This is the reason why today we are launching the Mponda Makwacha promotion," she said.
She said the promotion is targeting savings accounts but will also accommodate new and existing accounts that meet savings criteria.
"To qualify, one needs to save a minimum of K30,000 in any savings account for two months.The winners will have their account balances doubled until the whole K4 million is exhausted," she said.
Latest posts by Vanessa Banda
(see all)