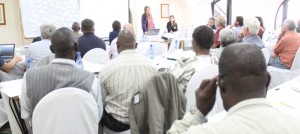 Malawi targeted as new producer of rare earths
Top geologists from the University of Exeter in United Kingdom have said Malawi has the potential to become a new rare earth element (REE) producer.
The geologists, who are in the country under the Horizon 2020 HiTechAlkCarb, a European Union project which is developing exploration tools for critical raw materials in alkaline rocks and carbonatites, made the remarks on the sidelines of various presentations on alkaline and carbonatites mineral rocks at Ku Chawe in Zomba on Tuesday.
The research will be achieved through studies at seven key natural laboratories namely Germany, Italy, Greenland, Malawi, Mongolia, Namibia and South Africa.
The outcomes of the research will be incorporated into new geomodels on multiple scales from a world catalogue to deposit models.
HiTechAlkCarb Project Leader, who is also Professor of Applied Mineralogy at Camborne School of mines, University of Exeter, Frances Wall, said due to technology advancement, the demand for minerals that produce electronic gadgets is growing.
Wall said because of the high demand, there is need to find new sources in terms of supply.
"We need to find new exploration tables and develop new deposits for the high technology deposits. Malawi has something different to offer in terms of minerals.
"The output we are going to have after our research will put Malawi geology on the world map," she said.
She, however, noted that the country lacks the numbers within the geology field, hence the need to encourage exchange programmes.
"Malawi does not have many speacialists in terms of actual core science, this calls for more interactions and exchange programmes with other experts," Wall said.
University of Exeter, Camborne School of Mines, British Geological Survey Lecturer in Critical and Green Technology, Kathryn Moore, who is also Expert Council Leader, said the high demand in technology usage has created a gap in terms of raw material supply.
She said the demand for gadgets that use rare earths as their raw materials has grown in recent times.
"The problem we have is that the rare earths are produced in very small quantities globally, hence if the few producing mines close, then the industry will suffer. This is a great concern," said Moore.
The expert council meeting is expected to facilitate countries that have the resources create new mines, according to Moore.
"We would want to create that mine in a country which is stable and where we could have good trade relations and good supply. Malawi is one such country," Moore said.
(Visited 134 times, 2 visits today)
Latest posts by Vanessa Banda
(see all)