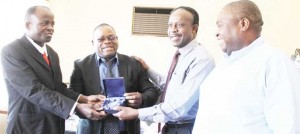 Malawi tea wins international award
Two Malawian tea producing companies emerged winners of a Global Medal Tea Competition organised by the Tea Association of Canada.
The winners were announced during the 7th North American tea conference which was held last month.
The companies, Eastern Produce Malawi (EPM) Limited and Satemwa Tea, competed against nine other major tea producing countries.
Satemwa's Oolong tea emerged the first while EPM's Black Tea was on position two.
Tea Association of Malawi (Taml) Chief Executive Officer, Clement Thindwa, said the awards show how innovative the Malawi tea sector is.
He said the sector is doing its best to ensure that Malawi tea penetrates through international markets.
"As you are aware, there is a decline from our traditional tea buyers that include South Africa and United Kingdom. for this reason, we are intensifying a hunt for new markets and Canada is one of them.
"In order for Canada to appreciate what we are doing, we decided to enter the competition, where our teas have done better," said Thindwa.
Receiving the award at Taml offices, EPM Senior Production Manager, Vituco Midaya, said the award is no mean achievement.he said the award signifies the company's seriousness in terms of quality.
"We are pleased to receive this award. it shows that hardwork and team work pays. As a company, we make sure that our teas are of high quality and that they can compete on the international market," Midaya said.
(Visited 19 times, 19 visits today)
Latest posts by Vanessa Banda
(see all)