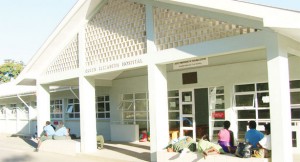 Malawi to benefit from UN agenda
The United Nations General Assembly last week officially adopted illicit financial flows as part of the sustainable development agenda, a move that is likely to help developing countries like Malawi where capital flight has greatly compromised the development agenda.
This marks the first time that illicit financial flows, defined as the illegal movement of money across borders, estimated at close to US$1 trillion per year, are considered a part of the development equation.
The Global Financial Integrity (GFI), a Washington DC-based research and advocacy group, recently listed Malawi among countries that would face challenges in implementing the newly adopted sustainable development goals due to the scourge of illicit capital flight.
In a statement made available to the media, the group hailed the move as a milestone that will aid poverty alleviation efforts that have been alluding most African countries after illicit capital flight cost the continent about one trillion dollars over the last 50 years.
Previously, development planners only counted money entering developing economies in for m of aid, trade, foreign investment and remittances but the impact of illicit money flowing out of those economies had never been considered.
T he statement quotes GFI President Raymond Baker saying the move is momentous in development efforts across the continent as illicit movement of money has slowed efforts of poverty alleviation in many developing nations.
According to a report by the African Development Bank, many African countries, including Malawi, have the capacity to primarily finance their development needs but suffer a haemorrhage of funds through illicit financial flows.
And towards the end of the year 2014, the Malawi Revenue Authority announced that it will engage various tax compliance strategies including working with the Anti-Corruption Bureau as the step forward in ensuring that the country does not continue to lose huge amounts of revenue.
MRA said it had gathered credible intelligence showing that some unscrupulous businesses are abusing the Industrial Rebate, Export Processing Zones and Duty Free Schemes for importation of qualifying items by fraudulently working with suppliers abroad to inflate importation costs.
Illicit financial outflows have been quantified as exceeding the total amount of official development aid and foreign direct investment flowing into developing countries between 2003 and 2012.
(Visited 21 times, 21 visits today)
Latest posts by Vanessa Banda
(see all)