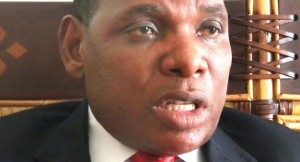 Malawi to delay Ratification
Minister of Industry and Trade Joseph Mwanamvekha says although Malawi will sign the Tripartite Free Trade Area agreement which is being launched in Egypt today, the country will not start trading under the accord immediately until some issues of concern to the country are addressed.
Heads of states from 26 member countries – including Malawi's President Peter Mutharika, are expected to sign the Tripartite FTA (TFTA) through which Comesa, Sadc and the East Africa Economic Community trade blocs are merging into one.
"We [Malawi] will sign to the agreement, but we will not start trading immediately," said Mwanamvekha.
"Implementation by various countries will be phased and we are working on a principle of variable geometry. Others will move faster while others will come later on, like Malawi," said Mwanamvekha.
He said although Malawi is ready, the country has to move cautiously when going into the agreement and that there are various issues of tariff reduction that have to be addressed.
"We will go into the agreement but we are not in a hurry," said Mwanamvekha.
"Some member states are already in phase two. But for us, we will have to start from phase one after addressing the challenges," he said.
He said, however, the TFTA will however benefit
Malawi in a number of ways.
"The agreement will [first of all] address the issue of multiple membership as Malawi was both a member of Sadc and Comesa," said Mwanamvekha.
The agreement, said Mwanamvekha, will also see investors using competitive and comparative advantages in some industries to attract some regional investors and make the country a hub of production for some goods for the regional market.
The agreement will also allow free movement of people and labour and will address visa challenges while encouraging trade among African countries.
"But local companies have to wake up and become competitive as the market will be tightened," said Mwanamvekha, adding: "Malawi has to compete with all the countries or companies in the region."
Among other things, countries that will sign the tripartite agreement will have to initiate a legislative process of ratification while those that do not sign will be given a specific timeframe to do so.
The agreement will come into force once ratification is attained by two thirds of the 26 states.
(Visited 1 times, 1 visits today)
Latest posts by Vanessa Banda
(see all)