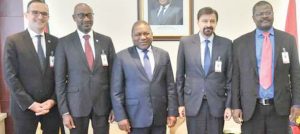 Malawi to tap from $100 million AfDB recovery fund
Taonga Sabola:
The African Development Bank (AfDB) has announced plans to set up a $100 million response and reconstruction programme for Malawi, Mozambique, and Zimbabwe to kick-start economic recovery and rehabilitation in the aftermath of Cyclone Idai.
This was disclosed when a high-level AfDB delegation, headed by AfDB Vice President for Corporate Services and Human Resources, Mateus Magala, met with Mozambican President Filipe Nyusi, in Maputo last week, to convey condolences from the bank.
Tropical Cyclone Idai was one of the worst tropical cyclones on record to affect Africa and the Southern Hemisphere. The long-lived storm caused catastrophic damage in Mozambique, Zimbabwe, and Malawi, leaving more than 1,000 people dead and thousands more missing.
"We would like to rebuild and modernise this corridor to be more resilient and to energise the region's economic activities without climate pressure or any other constraints.

"Mozambique has been the centre of the cyclone demonstration, but Zimbabwe and Malawi are also affected, so we will mobilise more resources for the reconstruction and modernisation of infrastructures in the region," Magala said.
Nyusi described AfDB's intervention as unique and comprehensive, assuring that it would go a long way in helping victims restart their lives.
He welcomed AfDB expression of leadership in helping the country get climate insurance.
"The African Development Bank is our bank. I have been interacting with the bank for years now, but the intensity of engagement with the bank's current leadership is even higher than usual," Nyusi said.

In a message to the affected countries, AfDB President Akinwumi Adesina said: "Our thoughts go to the people of Mozambique, Zimbabwe and Malawi who have been so dramatically impacted by the cyclone. This natural disaster once more shows the importance of building climate-resilient economies in the African continent."
Latest posts by Vanessa Banda
(see all)