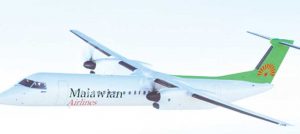 Malawian Airlines exploring new markets
Malawian Airlines is still struggling to break through the aviation industry to start making profits three years after the airline was commissioned.
The revalations were made by Malawian Airlines Board Chairperson, Jimmy Lipunga.
Lipunga said currently, the airline is looking for alternative markets that can help to build up traffic.
"The Johannesburg route is very competitive while the other routes like Zambia are not profitable. What the airline is trying to do, is to break into some of the new markets with the aim of building a level of traffic that can sustain the airline for the long haul," he said.
Lipunga attributed the poor performance of the airliner to the collapse of Air Malawi.
"The collapse of Air Malawi did not help. What it did was that, in a few years, customers built long-term relationships with the other carriers and Malawian Airlines, which came in a bit late, has to now fight the reality but customers have a choice and to persuade them to come back is going to take a bit of time. But patronage has improved over the years," Lipunga said.
He further said currently, Malawian Airlines has built some standards using modern fleet and maintaining high standards on punctuality.
"It's only three years, the company has a long way to develop. We will look at the cost and manage the revenue side, but this is a process and I am sure we will get there.
"Let me say this though, mak ing profi t s is not an indicator of good performance. Airlines are highly regulated. They have very high fixed cost and neck to neck competition and, therefore, when an airline is making losses, it doesn't mean that it is inefficient. There could be other factors that need to be looked into," he said, adding that there has been a lot of talk about the cost of jet fuel, which is a major factor in terms of comfortable performance.
(Visited 77 times, 77 visits today)
Latest posts by Vanessa Banda
(see all)