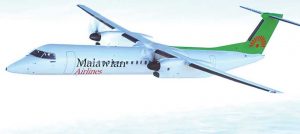 Malawian Airlines opens up on market forces
Financial hitches that have seen South African Airlines (SAA) flying in turbulent skies and nearly filing for bankruptcy will likely not offer much business opportunities to Malawian Airlines.
According to international media reports, SAA is in dire need of a financial bailout from the South African government, for it to get back on its wings.
SAA has various debts and loans and needs a capital injection of about R10 billion.
Malawian Airlines Chairperson, Jimmy Lipunga, said the aviation business is very complex as it faces global competition and emerging regulatory challenges which force airlines to spend a lot of money to make air travel safe and sustainable.
He said part of making air travel safer is replacement of fleet. He added that, if aircrafts are over 15 years old, they cost more in maintenance and competition may work against operators.
"Geographical positions also matter. If you are in the Southern tip [such as Malawi], it means you have to operate long haul flights and these are very expensive. You need to have necessary marketing structures to support them.
"Where we are, we are trapped between two hubs, Nairobi and Johannesburg; this means moving passengers from one point to another is not easy because of competition," Lipunga said.
He said, instead of thinking of capitalising on the financial problems SAA is facing, it and Malawians can celebrate that the country has a reliable airline as compared to neighbouring countries.
Last month, news24.com reported that, the airliner plans to cancel flights to African destinations including Blantyre and Lilongwe in Malawi, Brazzaville in the Republic of the Congo, Kigali in Rwanda and Libreville in Gabon to counter its financial troubles.
However, SAA dismissed the reports.
SAA spokesman, Tlali Tlali, said there is no such decision in respect of Malawi as a destination.
"SAA has not made any network changes and, should there be a need for us to do so, all necessary and required steps will be taken to notify our stakeholders and customers in the affected markets. There is no such decision in respect of Malawi as a destination," he said.
(Visited 28 times, 28 visits today)
Latest posts by Vanessa Banda
(see all)