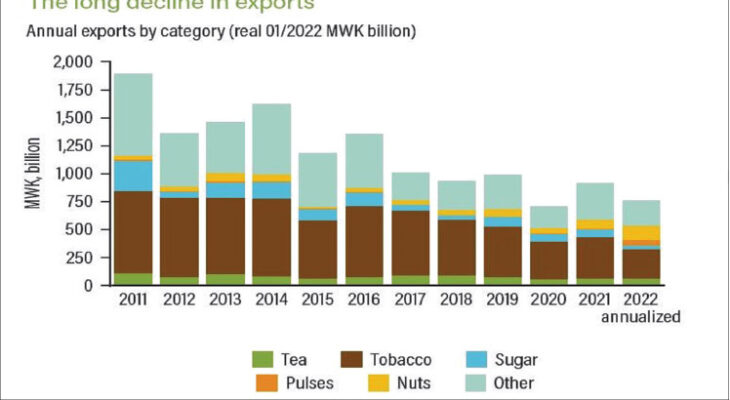 Malawi's drive towards export led growth slows
Malawi's efforts to shift towards export-oriented industrialisation that involves production of goods and services that are competitive on the global market have faltered almost 30 years on, it has been established.
The Ministry of Industry and Trade and the United Nations Economic Commission for Africa (Uneca) say this is reflected in the reduction in the number of firms participating in Export Processing Zones (EPZs) from 40 in 1996 to 15 at the end of last year and is largely due to change in trade and fiscal policies.
Published data from Uneca shows that out of the firms in EPZs, 22 were in textile and apparel, six in agro-processing, seven in horticulture, four in mining and one in wood and wood products.
As of last year, the country had 15 active EPZ firms and some of them are Kawalazi Estates, Malawi Mangoes Limited, Thyolo Nut Company, Sable Farming, Makande Estates, and Vizara Rubber and Wood Company, according to Uneca.
But speaking in an interview on Saturday, Ministry of Trade and Industry spokesperson Mayeso Msokera said the current EPZ scheme is made up of a variety of operations as opposed to smaller firms that were concentrated in sectors such as textile.
"When EPZs were adopted in 1995 in Malawi, majority of companies under the scheme were into textiles and garments production and were exporting to South Africa," he said.
Msokera said in the current EPZs regime, there are no specific zones dedicated to export processing, rather it is firms which are designated the status of EPZs and are located in areas of choice as well as convenience to the investor.
Meanwhile, Ministry of Trade and Industry in collaboration with the Malawi Investment and Trade Centre has drafted a Special Economic Zones (SEZs) Bill that is expected to guide developments and operations of the SEZs in Malawi.
Malawi has since identified Area 55 in Lilongwe for the development of 55 SEZs in agro and food processing, production of electrical equipment, manufacture of chemical and plastics, general and light engineering, electronics manufacturing, information and communications technology and logistics centre.
In Blantyre, the ministry will be developing Chigumula SEZ for agro-processing and light manufacturing firms while Matindi also in Blantyre will host firms in manufacturing, agro-processing, chemical and pharmaceuticals, light engineering, mineral processing, and construction material production.
In Mzuzu at Dunduzu, SEZ firms will be engaged in food and agro-processing, light manufacturing, timber industries and pharmaceuticals, among others.
In its analysis of SEZs, Uneca said the Malawi programme focuses not only on promoting export diversification, but also on attracting foreign direct investment and generating foreign exchange.
Let us know what you think of this article and remember to add us on our facebook and follow us on our twitter. Come back daily for more Malawi business news.
Quick Links: Download Business eBooks | Ten Signs You Are An Entrepreneur | What is a Managing Director?
Latest posts by Vanessa Banda
(see all)