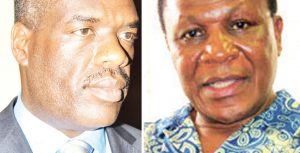 'Manifestoes must speak to economic blueprint'
By Taonga Sabola:
With less than six months to the May 21 2019 elections, the National Planning Commission has said political parties must craft their manifestoes in line with Malawi's economic development goals.
Malawi's economic and growth aspirations are enshrined in the Malawi Growth and Development Strategy (MGDS III).
National Planning Commission Chairman, Richard Mkandawire, said on the sidelines of the 2018 Economics Conference organised by the Economics Association of Malawi (Ecama) the commission is entrusted with the responsibility of coordinating Malawi's development agenda through proper planning.
Mkandawire said chances are high that political parties could promise people things that are not in line with the national development plan in a desperate attempt to win votes.
MGDS III is being implemented from 2017 to 2022. It is the fourth medium-term national development strategy aligned to the country's long-term national development aspirations, which are articulated in Vision 2020.
The previous development strategies that were developed to implement Malawi's Vision 2020 were the Malawi Poverty Reduction Strategy Paper Development Strategy (MGDS) I and II.
The MGDS III is the final strategy that will take Malawi to the realisation of Vision 2020.
Mkandawire said, now that the country has a planning commission, it is crucial for development activities to be well coordinated.
He said it is critical that all Malawians embrace the MGDS III as a tool for national development.
Mkandawire said his commission would ensure that Malawians appreciate their role in economic development process.
Presenting a paper during the 2016 Ecama Annual Conference, Chancellor College associate professor, Winford Masanjala, observed that lack of coherence between political party manifestos and national development strategies is one of the factors affecting implementation of medium term development strategies in the country.
Masanjala said a national development plan is agreed upon by all citizens of a country regardless of political affiliation as the roadmap a country is supposed to take to achieve accelerated to development.
He said, political party manifestos should not supersede the national development plan but should shed light on how to implement the national development plans.
Latest posts by Vanessa Banda
(see all)