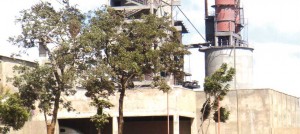 Manufactures cry foul over imported cement
Shayona Cement Corporation says the influx of foreign cement on the local market is having a negative impact on its operations. The company started its operations in the country in 1997 and employs over 1,000 people.
Shayona Managing Director, Jitendra Patel, said the influx of foreign cement products is creating unfair competition on the market. Patel was speaking when his company made a donation of medical drugs to St Augustine Hospital in Kasungu over the weekend.
"We face several challenges but one of the biggest problems is the illegal importation of cement. We are appealing to government to protect the local cement industry," Patel said.
Minister of Transport and Public Works, Jappie Mhango, assured the company that government will create favourable environment for all investors.
Mhango hailed Shayona for its contributing to the development of the country.
During the ceremony, the company donated medical drugs to St Augustine Hospital estimated at K2.7 million.
The company has a high-tech cement manufacturing plant and is also constructing another plant to for clinkers production.
Recently, cement products from other countries have flooded the market often priced relatively lower than local cement.
(Visited 93 times, 93 visits today)
Latest posts by Vanessa Banda
(see all)