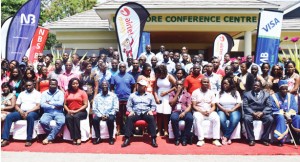 Marketers asked to sell Malawi
Vice President Saulos Chilima has challenged marketers to start marketing Malawi through innovative ideas that can help in making the most for the economy.
Chilima made the call at the official opening of this year's Chartered Institute of Marketers (CIM) Lakeshore Conference in Mangochi held under the theme 'Stay Ahead of Competition'.
Chilima called on the marketers to create innovative ideas that would help not only boost their individual businesses and firms but also play a role in stimulating national economic growth.
Through the proposed 'Brand Malawi' by CIM Malawi, Chilima said marketers can influence the flow of investors and tourists into Malawi.
"If [as a marketer] you don't understand the vision and the mission of your country, forget about being on top. This is the essence of the theme of staying ahead of competition," said Chilima
He called for a change in the way of doing things among marketers
"Don't expect results by doing the same things the same way over and over again. There is a need for creativity and innovation among the marketers in doing business," said Chilima, a marketer by profession.
In his remarks, CIM president Stanley Mkwamba said through the Brand Malawi initiative, marketers want to collaborate with government to create innovative ideas to woo more Foreign Direct Investment (FDI) as well as tourists into the country and support economic growth.
"We are more than willing to serve the country and ensure that there is hope for the economy. Malawi has vast capacity to grow its economy. It is just a matter if exposure," he said.
The conference attracted over 150 marketers as well as international guests and speakers.
(Visited 9 times, 9 visits today)
Latest posts by Vanessa Banda
(see all)