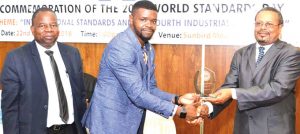 MBS for improved products standards
By Sharon Chirwa:
Malawi Bureau of Standards (MBS) on Monday commemorated World Standards Day during a ceremony held in Blantyre City.
World Standards Day is celebrated on October 14 every year by members of the International Electrotechnical Commission (IEC), International Organisation for Standardisation and International Telecommunication Union as a way of paying tribute to collaborative efforts by experts around the world to develop voluntary technical agreements that are published as international standards.
MBS Director General, Davlin Chokazinga, said adherence to standards is critical for the growth of businesses in Malawi.
"Standards have brought a lot of developments to the world. They are the way of life, therefore, if we are to advance as a nation, we need to embrace standards," Chokazinga said.
He said Malawi is on track in terms of producing products of international standard.
"If we are to match our fellows on the international scene, we need to move with speed and make sure that standards are not compromised.

"We have made progress. We have seen tremendous change from the way we were 20 years ago. Many companies are making advances that are in line with international standards," he added.
The day was celebrated under the theme 'International Standards and the Forth Revolution'.
During the event, MBS also awarded three local innovators.
The three are Rashid Kasito of Sanwecka Tech Companion, Mayamiko Nkoloma of Imosys and Alinafe Kaliwo of Microsystems.
Kasito, who has invented a Halogen cooker, described the award as an honour.
"With the support we have received from MBS, we feel encouraged to increase our efforts and come up with more innovative ideas," Kasito said.
Latest posts by Vanessa Banda
(see all)