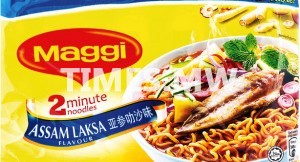 MBS to follow up on banned noodles
The Malawi Bureau of Standards (MBS) said on Monday it will follow up on the ban for the sale of Nestle's Maggi noodles in most Asian countries after high levels of harmful lead were found in the product.
At least five Indian states and Bahrain have banned the sale of Nestle's and Indian instant noodles after food safety inspectors in New Delhi said they found unacceptable high levels of lead in the product.
However, major retail shops and other shops in Malawi were on Monday still selling the produce – which are usually on high demand among local consumers.
MBS director general, Davlin Chokazinga, said in an interview the bureau had not yet received a complaint about the product but promised to take a step further to verify.
"You are the second person to call me about this, but honestly I don't know anything. Let me liaise with my officers to see what we can do on this," said Chokazinga.
Competition and Fair Trading Commission (CFTC) Executive Director Wezzi Charlotte Malonda said MBS was better placed to know about the development since they are the ones directly responsible for verifying if products being sold on the market.
The Indian states and Bahrain have given the South African fast selling product a three month period off the shelves to pave way for further investigations.
(Visited 16 times, 16 visits today)
Latest posts by Vanessa Banda
(see all)