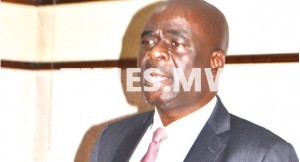 MCCCI faults government on arrears
The Malawi Confederation of Chambers of Commerce and Industry (MCCCI) has faulted government for the strategy it has outlined on the repayment of arrears to the private sector.
MCCCI says the K50 billion set aside by the government for the repayment of private sectors arrears is too small considering that the businesses are owed over K155 billion by the government.
Minister of Finance Goodall Gondwe announced in parliament during presentation of the 2015/2016 national budget that government has planned to offload the K155 billion debts in three consecutive financial years through issuance of zero coupon promissory notes.
Gondwe said government categorised the repayment in three categories based on maturity of which the first category worth K50 billion is expected to mature this financial year.
However, MCCCI president Newton Kambala told The Business Times in an interview that government's action is exploitive and that it will have negative implications on the financial and business operations of businesses
"The small amount set for the repayment of arrears to the private sector is utter mockery and reflects the lack of respect towards what is supposed to be the engine of growth," He said
In an interview on Tuesday, however, Gondwe expressed surprise at Kambala's rage, saying the K50 billion figure was collectively arrived at during a meeting comprising Bankers Association of Malawi, MCCCI and his ministry's representatives.
"I am also surprised because we just followed what we agreed and we thought we understood each other," said Gondwe
According to Gondwe's budget statement, the first bunch of the promissory notes is expected to mature this year, the next in 2016/2017 financial year whilst the last will be in 2017/18.
He told the august house that government already paid to smaller businesses a total of K10 billion in the last financial year to provide them with essential cash for their operations.
(Visited 8 times, 8 visits today)
Latest posts by Vanessa Banda
(see all)