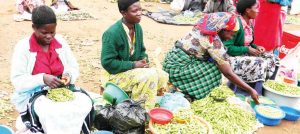 MCCCI speaks on small and medium enterprises challenges
The Malawi Confederation of Chambers of Commerce and Industry (MCCCI) has said small and medium enterprises(SMEs) continue to face challenges such as access to affordable capital, skills sets and access to markets, among others.
MCCCI President, Karl Chokotho, was speaking during the official opening of the Regional Trade Fair in Mzuzu recently.
The trade fair was held under the theme 'Promoting SMEs for an Inclusive and Robust Economy'. Chokotho said the theme was aimed at finding solutions to the challenges SMEs are facing and consequently empowering them to take part in the development of the country.
Chokotho said the Mzuzu trade fair was crucial as it provided a platform for participants from the Northern Region to showcase their products.
"Some of the challenges facing SMEs in Mzuzu are poor upgrading and maintenance of roads as the industrial site of Luwinga still has dusty roads. This is affecting transportation of goods and services and there is poor waste management, which can result in an outbreak of diseases," he said
Chokotho further said the government, through the Ministry of Industry, Trade and Tourism, is working on the SMEs policy, which, when finalised, will offer guidelines on how to promote SMEs.
Mzuzu City Council Mayor, William Mkandawire, said the council is ready to address the problems to ensure that SMEs are empowered and take part in the development of the country.
"The council is doing all it can to ensure that the roads that are being upgraded are of high quality but it will take time to upgrade all the roads in the city as the demand is high because of population of the city. We are also ready to partner with companies in waste management to ensure that our cities are clean," Mkandawire said.
He said the council is working on finding a permanent location for the hosting of the trade fair.
(Visited 33 times, 33 visits today)
Latest posts by Vanessa Banda
(see all)