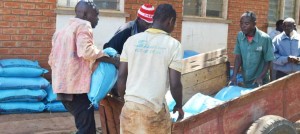 Medef launches fertiliser fund | The Times Group
Thousands of smallholder farmers across the country, who will not benefit from this year's Farm Input Subsidy Programme, stand a chance to get fertilisers through a loan facility being implemented by the Malawi Enterprise Development Fund (Medef).
The fund has introduced an agriculture loan facility to allow farmers and farmer groups to access fertilisers using a loan payable within seven months.
However, the loan will attract five percent interest. This facility was launched this week.
Medef Chief Operations Officer, Dingiswayo Jere, said the initiative was a response to requests made by some farmers who do not have the capacity to buy fertiliser in one installment.
"Many of the farmers have been telling us that they do not have the funds and resources to buy fertilisers and we have responded to that as part of ensuring that the nation is food secure but also ensuring food security at household level," Jere said.
One of the beneficiaries, Pililani Kafumbula, thanked Medef for the facility.
"We were afraid that we would not be able to produce maize this year because we cannot manage to pay K20,000 at once to buy a bag of fertiliser but, with this loan, we will be able to pay in installments," Kafumbula said.
She went on to say that the facility has given them an assurance of a normal farming season.
Currently, traders are selling a bag of fertiliser at between K17, 000 and
K20, 000.
(Visited 19 times, 1 visits today)
Latest posts by Vanessa Banda
(see all)