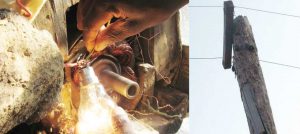 Meet an 'Angel of Light' to Yobe Mkosi Village
His passion in electrical engineering started like a dream during his early days at Mzimba Secondary School but reality has carried through to fruition.
A tour to his home, one would think the man is mad or is trying to invent a rocket. His veranda is full of pieces of metal, wires, screwdrivers and magnetic bars. The items have yielded him the best of life in his village.
Today, at 35, Cored Nkosi is a complete self-made electrical engineer behind Kasangazi Hydroelectric Power Plant for over four years.
The brainy engineer with just a Malawi School Certificate of Education (MSCE) from 2006 examinations applied his secondary school physical science to divert water from Kasangazi River and created his own water fall to a distance of 30 metres using 110 millimetre pipes.
The water, at a later extent, is then squeezed through a 63 millimetre pipe to increase the pressure and drive his turbine motor engine.
Nkosi is able to generate power of about 600 volts (AC) which is transmitted through wires to his Yobe Nkosi Village, a distance of three kilometres.
However, due to shortage of wires, he is unable to transmit all the 600 volts but only 300 and the rest is left unutiliied.
But unlike Electricity Supply Corporation of Malawi (Escom) which charges its power, Nkosi is providing his electricity for free to 11 houses in his village and other 15 in two neighbouring villages.
Nkosi says he started chasing the dream of inventing a hydropower plant in around 2012 and it really materialised after he gathered all the necessary materials to make his own motor engine.
"The engine I built at first gave me trouble to control voltage during rainy season as it used to go up and up.
"I then improved on the first power plant and made a bigger engine and doubled the power to about 600 volts. Then I devised a mechanism of stepping up and down the power since I had no big transformer.
"I brought a piece of wood with two branches and placed the pipe on top. I now control the voltage by lowering or raising the pipe since the procedure controls water flow," Nkosi says.
On safety, he says he makes sure that it does not cause accidents to people, especially children.
"I devised a repel mechanism by using like charges in a magnet. The system prevents people from being electrocuted as it repels instead of attracting them," he says.
He says apart from the repel mechanism, he uses earth wire to protect people and their appliances from lightning.
Nkosi says he is happy that since he instituted the power plant, there have been no accidents or reports of loss of appliances due to high voltage which signifies that his safety idea and voltage control is working.
Increased demand for power
The news about Nkosi's amazing ideas to invent a power plant spread like wildfire back in 2013.
Surrounding villagers could not bear the pain of sleeping in the dark while others were enjoying free electricity. Two villages of Zombe and Kayipereke met Nkosi for an installation of their own power plant.
Nkosi says the two villages contributed about K140,000 to pay for two engines and transmission wires which were later installed in the areas.
One of the villagers from Zombe, Nation Nyirenda, says he leads a happy life just as people in towns and hails Nkosi's innovation.
"With the power, I am able to charge people's mobile phones and earn a little for my upkeep," he says.
The villagers who never dreamt to live in electrified houses testify in amazement of the brilliant ideas from the untrained engineer.
Standwell Nkosi, who happens to be the engineer's father, says he is proud of his son's achievement and contribution to the welfare of the community.
"We had no hope that our houses would have electricity one day. My son brought us the miracle. Our electricity is not associated with blackouts as is the case in towns and cities. We have had constant power for over three years.
"We can watch TV, listen to the radio and charge our phones just like those people in towns and I thank God for my son's abilities," Standwell says.
He says some people are relocating from their areas to his village to ensure they benefit from the free electricity.
Achievements and vision
After emerging the second best during 2013 Youth Innovation Programme supported by US Embassy, Nkosi says his vision goes beyond being an 'Angel of light' to his village.
"I'm thinking of how I can improve my power plant so that electricity transmission can be extended to many households," he said.
He says he is working to find out how he can turn a 'spark' that comes when negative and positive charges meet and make it into something usable.
"I'm currently building an engine which shall use no water but it will run for over 10 years. This engine shall behave just like a car. It will need a battery to start it up and removed after it has started.
"This will generate power more than any previous machine. My desire is to reach the level of Escom and I'm sure, slowly I will reach that far and be able to supply electricity to a larger population and beyond," he says.
Mzimba District Youth Officer Samuel Gondwe hails Nkosi's creativity saying, as an office, they will support him to ensure he realises his dream.
Gondwe says the young man is a role model in Mzimba for being able to discover and utilise his talent and skills.
"Most youths migrate to South Africa feeling there is nothing good they can do in Malawi but the engineer has proven them wrong," Gondwe says.
Escom's spokesperson Kitty Chingota says, as Escom, they are happy to see a number of players investing in energy sector.
"If there are a number of youths with such innovation and able to generate power, that's very commendable because, as a nation, we have to diversify and move on," she says.
(Visited 20 times, 20 visits today)
Latest posts by Vanessa Banda
(see all)