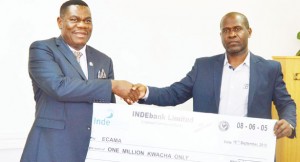 Meeting gets Oxfam, Press Trust boost
Oxfam Malawi and Press Trust have each contributed K1million towards this year 's Economics Association of Malawi (Ecama) lakeshore conference scheduled for Mangochi from November 13-14 this year.
Presenting the cheque, Oxfam country director, John Makina, said they decided to partner Ecama because this year's conference theme "Agriculture transformation and Value addition" is central to Oxfam's campaign on "access to markets" which it initiated in 2014.
"Oxfam's participation hopes to generate more knowledge from different stakeholders at the conference on how to further work on access to markets for the smallholder famers," Makina said.
Speaking during a different ceremony to present another donation to Ecama, Press Trust chief executive officer, Patrick Mhango, said Ecama has always been pleased with the depth of the discussion at the conference which brings together participants from public and private sectors of the country as well as from civil society.
Ecama president, Henry Kachaje, hailed Oxfam and Press Trust for the donations, saying they were timely and would help in the success of the conference.
(Visited 2 times, 2 visits today)
Latest posts by Vanessa Banda
(see all)