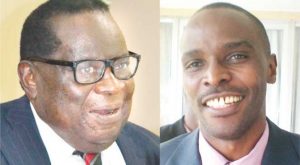 Mejn, Oxfam speak on budget expectations
The Malawi Economic Justice Network (Mejn) and Oxfam have asked the government to ensure that the 2017/2018 national budget allocates enough resources to the development of human capital in various sectors of the economy.
According to the two bodies, developing human resources would be key to sustaining economic development in the long term.
The call comes at a time when Finance Minister Goodall Gondwe has just concluded engaging stakeholders for their input into the next budget.
Mejn Executive Director, Daliso Kubalasa, said the budget needs to focus on developing skills among the youth who are estimated to comprise over 70 percent of the population.
"The government should strategically look at Malawi's young population whose median age is reported at 17 years. This would consolidate and optimise the demographic dividend," he said.
Kubalasa said there has to be a careful balance in policy priorities and investments towards both productive and social sectors like education, entrepreneurship, health and social welfare
Kubalasa backed calls from the private sector that want Capital Hill to introduce a private sector-led budget following improvements in most key macro-economic.
"The call is for the government to implement favourable fiscal and monetary policies to create a conducive environment for businesses to thrive.
"Macro-economic stability needs to prevail with the arrears cleared and domestic borrowing managed to avoid further tipping the economic boat to the detriment of the private sector," Kubalasa said.
In a separate interview, Oxfam Country Director, John Makina, said authorities should increase funding allocations for essential social services such as health and education.
"Broadly, Oxfam in Malawi expects realistic, effective and long-term policies and public financial management systems that will lead to better control of extra-budgetary expenditures as well as increased efficiency in public expenditure management," Makina said.
He further said the government needs to do away with harmful tax lines which may compromise domestic revenue mobilisation.
"Subsidies are doing the country more harm than good," he said.
(Visited 15 times, 15 visits today)
Latest posts by Vanessa Banda
(see all)