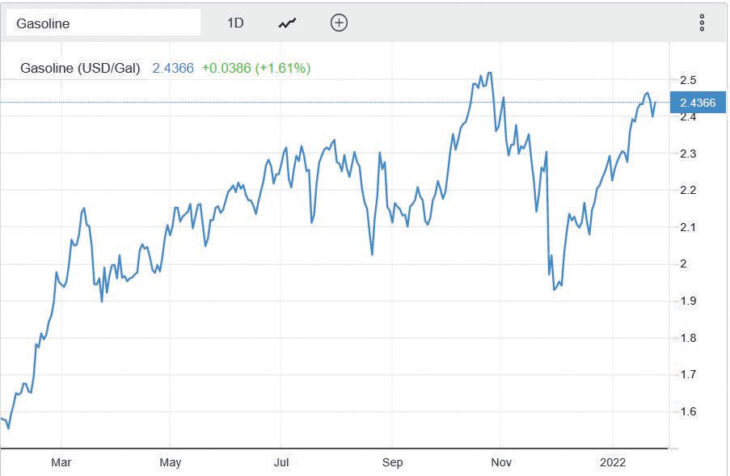 Mera conscious of global fuel prices
James Chimwaza
The Malawi Energy Regulatory Authority (Mera) has indicated that it is keeping tabs on global fuel prices and will act accordingly, when necessary.
This follows revelations that fuel prices on the global market have been on the rise since October last year when the energy regulator last revised fuel prices in the country.
For example, United States (US) gasoline futures reached a three-month high of $2.48 a gallon on January 20 2022 from $1.94 on November 30 2021, according to tradingeconomics.com.
It further says crude inventories unexpectedly rose for the first time in eight weeks while gasoline stocks expanded by 5.87 million barrels, compared with estimates of a 2.63 million barrel build.
Similar data published by Reuters show that Brent crude futures gained in price by 0.7 percent or 58 cents and last week rose for the fifth week in a row gaining 2 percent.
In an interview, Mera Consumer Affairs and Public Relations Manager Fitina Khonje said the authority had noted the price changes on the international market and would continue to monitor the same.
"According to the automatic pricing mechanism, prices are adjusted when changes in the landed costs of petroleum products are above 5 percent," Khonje said.
The country has been experiencing disruptions in fuel supply due to scarcity of foreign exchange, a situation that has forced Mera to write the Reserve Bank of Malawi to prioritise foreign exchange allocation.
The Malawi Confederation of Chambers of Commerce and Industry (MCCCI) recently suggested to the Treasury that it consider constructing a pipeline from neighboring countries.
Its President James Chimwaza told The Business Times that construction of the pipeline is the long-term solution to fuel price controls on the local market.
"It is not something that can happen in a year but, once constructed, the cost of importing fuel into the country will be lower and there will be greater assurance of its availability," Chimwaza said.
In October last year, Mera revised fuel prices upwards by an average 21.8 percent, which saw petrol selling at K1,150 per litre from K899.20 and diesel at K1,120 per litre from K898.
Mera attributed the fuel increase to the increase in price of the commodity on the international market and the depreciation of the local currency against the dollar.
Justin Mkweu is a fast growing reporter who currently works with Times Group on the business desk.
He is however flexible as he also writes about current affairs and national issues.
Let us know what you think of this article and remember to add us on our facebook and follow us on our twitter. Come back daily for more Malawi business news.
Quick Links: Download Business eBooks | Ten Signs You Are An Entrepreneur | What is a Managing Director?
Latest posts by Vanessa Banda
(see all)