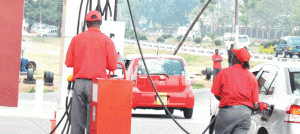 Mera maintains fuel pump prices
The Malawi Energy Regulatory Authority (Mera) has maintained fuel pump prices and motorists will still pay K824.70 for one litre of petrol, K815.80 for diesel and K648.70 for paraffin.
This is the fifth month in a roll for the energy regulator to maintain the prices.
In a statement issued yesterday, Mera Board Chairperson, Reverend Joseph Bvumbwe, said the average Free on Board (FOB) prices of petrol, diesel and paraffin, used to determine fuel prices, registered increases compared to the averages obtained in the month of October 2016.
For instance, FOB price of petrol rose by 1.21 percent, while that of diesel and paraffin rose by 2.64 percent and 1.32 percent respectively in the month of March 2017.
"Since the last review of the In Bond Landed Cost (IBLC) of petroleum products in November 2016, the Malawi kwacha has remained stable against the United States dollar trading at a rate of K733.50 against the dollar.
We also assessed the combined effect of the movement of the FOB prices and exchange rate of the Malawi Kwacha to the US dollar," Mera said in the statement.
Mera said it also reviewed changes in local factors that determine the maximum pump prices and noted that the landed cost of petrol, diesel and paraffin increased by 4.10 percent, 8.50 percent and 9.45 percent, respectively.
The changes in the landed costs qualified diesel and paraffin for an upward pump price adjustment according to the Mera statement.
"T he Mera board considered the accumulated PSF balance in April 2017 and has, therefore, resolved to maintain fuel pump prices by covering in full IBLC increases through use of the Price Stabilization Fund," Mera said.
The Malawi government adopted the Automatic Fuel Pricing Mechanism in 2012 where fuel prices are determined by trends on the international market.
(Visited 37 times, 37 visits today)
Latest posts by Vanessa Banda
(see all)