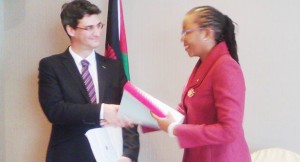 Millennium Challenge Account awards sixth contract
The Millennium Challenge Account Malawi (MCA-M) on Wednesday awarded the sixth contract in the power compact for the installation of a US$7.47 million control and data system on the Malawi power transmission network.
The contract has been awarded to a French company, Alstom Grid for the Supervisory Control and Data Acquisition (Scada) project said to be critical for Malawi's Transmission Network System.
MCA-M chief executive officer Susan Banda and the company's commercial manager Benoit Pradairol signed on behalf of the two parties.
"It is critical because the Scada will assist engineers in real time remote monitoring, planning and optimisation of Escom's transmission systems spread over the country. The Scada will ensure Escom has a reliable and cost efficient operation of the power system," said Banda.
The project will among others provide Scada and energy management software for supervision and optimisation of the power system in Malawi.
She said the system will also extend and upgrade the existing telecommunication system for operation of the Escom power system and that Alstom will provide control center facilities at a National Control Centre.
On his part, Pradairol said he was optimistic that the project will be finished within the time allocated to the company.
"We will work to ensure we finish before the deadline that has been agreed in the contract with MCA," said Pradairol.
The latest contract brings the compact programme's total committed resources to US155.6 million out of the US$257.1 million allocated for the infrastructure development in the US$350.7 million project.
The United States government-funded Millennium Challenge Corporation compact project intends to help economic growth and poverty reduction through power infrastructure upgrade and capacity building at Escom.
Through the project, MCA intends to install new and bigger power transmission lines, distribution equipment and support efficiency development of Escom for reliable and uninterrupted power supply in the country.
(Visited 23 times, 23 visits today)
Latest posts by Vanessa Banda
(see all)