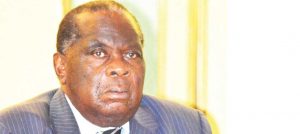 Mist over Malawi Growth and Development Strategy III
There is still uncertainty on the specific time frame when the country will roll out its development blueprint; the third Malawi Growth and Development Strategy (MDGS III) close to a year after the implementation period for MDGS II expired.
MDGS III was formulated to meet the United Nation's (UN) Millennium Development Goals (MDGs) which also expired in 2015.
Government has said it is still engaging stakeholders to incorporate their views into the plan but remains non-committal on when the blueprint will come into force.
Minister of Finance, Economic Planning and Development Goodall Gondwe, however, said in an interview that the delay has not caused a vacuum as other development plans are still available to guide development projects.
"We started MDGSs only about five years ago before we never had it. So we can't say that we are in the dark, we can use the ideas of MDGS II to come up with decisions," Gondwe said.
He said while strides are being made towards completion of the formulation of the new development agenda, the country is still premising its development strides on other similar blueprints.
He reiterated that Malawi has enough development plans formulated but that what is lacking is systematic implementation.
Giving an update on progress made in formulating the new plan, Gondwe said the plan is ready and now awaiting final approval from the president and cabinet before it can be adopted.
"As soon as that is done, we will roll it out. It's not a political party matter, it is a country matter. The MDGS is a government matter. So it does not matter which government is there, that is why there is a lot of consultations," he said.
Ironically, the plan is also being formulated in the absence of the National Planning Commission, which when formulated would have to oversee the national development agendas.
Recently, both the Malawi Confederation of Chambers of Commerce (MCCCI) and the Economics Association of Malawi (Ecama) called on government to speed up the formulation processes, saying further delays my frustrate other development strides.
And an economic expert from the Chancellor College Winford Masanjala warned in an interview recently that lack of coherence between political party manifestos and national development strategies is one of the factors affecting implementation of medium term development strategies like the MGDSs.
(Visited 1 times, 1 visits today)
Latest posts by Vanessa Banda
(see all)