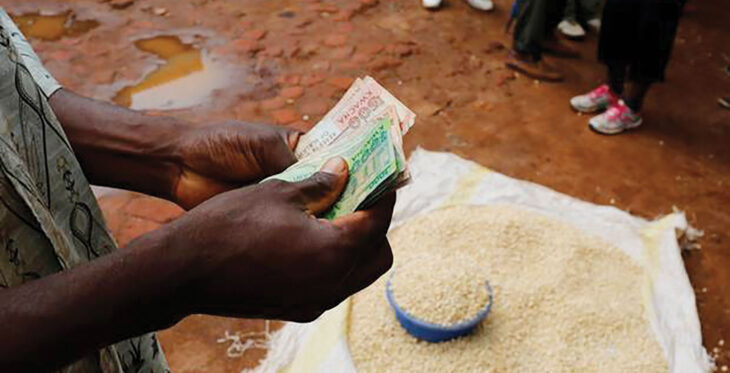 Mixed feelings on farm gate prices
The government Tuesday announced minimum farm gate prices for various commodities for the 2019/20 marketing season with a stern warning against abuse of farmers.
According to the price structures, Maize, Malawi's staple crop, will be bought for not less than K200 per kilogram while minimum price for rice (polished) has been set at K600 per kilogram.
Minimum price for Soya beans is K300 per kilogram while beans will be bought at not less than K450. Lowest price for groundnuts (shelled) has been set at K480 per kilogram.
Addressing journalists Tuesday, Minister of Agriculture Francis Kasaila, said these minimum prices will help farmers and all stakeholders make informed decisions on agricultural enterprises.
"This measure ensures affordable prices to consumers. We understand vendors are already in the communities buying farm produce but since the minimum price has been released, we request them to follow the new order of prices or else face the law," Kasaila said.
To enforce the prices, Kasaila said the government with assistances from other stakeholders will continuously monitor and enforce compliance.
He also said state run grain trader, Agricultural Development and Marketing Corporation (Admarc) will start buying various commodities from farmers tomorrow.
In a telephone interview Tuesday, agriculture expert, Tamani Nkhono Mvula, urged the government to be vigilant in protecting farmers from unfair prices when selling commodities.
He said a warning alone is not enough to protect farmers from unfair prices, saying it requires action.
"This time, Admarc should be able to reach to the farmers and sensitise them on prices and government should put strict measures to protect them."
"One of the challenges is that these prices do not have any enforcement mechanisms put in place and sometimes farmers who are far away from Admarc [depots] do not know about these prices," Mvula said.
Cisanet National Executive Director, Pamela Kuwali said they will keep on observing market trends to make sure the newly announced prices are implemented.
Kuwali said while the prices are slightly higher than last year, farmers are still prone to losing out as output might not tally investment.
"Let government be on the watch as most farmers are already selling their farm produce to neighboring countries as the prices are higher than what has been announced," Kuwali said.
Each year, the government set minimum buying prices for the various commodities to hedge farmers from abuse.
However, vendors continue profiteering on the farmers' challenges to access stable markets for their commodities.
The farm gate prices are determined through a consultative process involving key stakeholders in the agricultural sector.
To determine the prices, the Agriculture undertakes a cost of production across the country which involves collecting data on production costs from sampled smallholder farmers on selected crop enterprises, which is used to compute gross margins and break-even prices.
The process also takes into consideration other economic factors including price movements in the last growing season as well as the prices at the regional and world markets.
Let us know what you think of this update and remember to add us on our facebook and follow us on our twitter. Make sure to come back daily for more Malawi business news updates.
Quick Links: Malawi Radio Station Frequencies | Where To Eat In Malawi | Download Business eBooks | Ten Signs You Are An Entrepreneur | What is a Managing Director?
Today's top business story: Top Commercial Banks In Malawi
Source Link
Latest posts by Vanessa Banda
(see all)