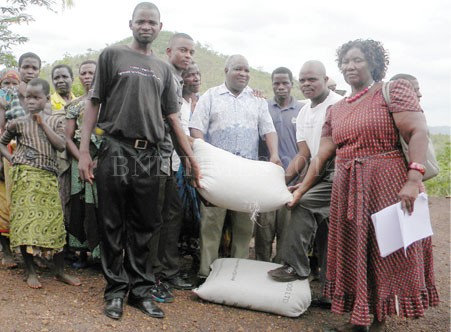 Mkango Resources building a seed revolving project
Mkango Resources building a seed revolving project
Mkango Resources, Rare Earth Element explorers at Songwe Hill in Phalombe have engaged communities around their catchment area with a pigeon pea seed bank project.
On Tuesday, the company distributed 4,000 kilogrammes of pigeon peas seed valued at K1.2million to 1,000 farmers from 14 villages surrounding the exploration area.
Mkango Country Manager Burton Kachinjika said the project aims at empowering the communities economically.
"As a company we want to empower our surrounding communities. Following discussions with community leaders, we agreed in previous years to provide them with Soya seed but unfortunately the seed did not do well. After that the communities decided that we should provide them with pigeon peas seeds and that is what we are giving them today," he said.
Kachinjika explained that each family will receive four kilogrammes of the seed and they are expected to give back to the company eight kilogrammes after harvesting.
"The eight kilograms is not for Mkango but rather we want to redistribute the seeds and give it to an increased number of communities during next year's planting season. In that way further households will benefit from the same eight kilogrammes, so the beneficiary number will be doubled," said Kachinjika.
He further said the company is also discussing plans with Nasfam, so that they build a warehouse in the area and buy the produce directly from the farmers.
"We want our community farmers to be earning more than they are currently earning. We do not want vendors to be buying from these farmers at low prices, what we want is that the community should be financially empowered" he said.
Group Village headman Maoni asked the farmers to use the seed for its intended purpose.
Latest posts by Vanessa Banda
(see all)