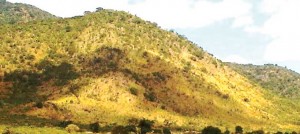 Mkango Resources gets 2-year licence extension
The government through the Ministry of Mines and Natural resources has renewed Mkango Resources exclusive exploration licence for its Phalombe project for a further two years.
Mkango Resources are exploring rare earth elements at the Songwe Hill in Phalombe and other areas such as Nkalonje, Mantrap, Knoll and Namangale.
Mkngo Resources President, Alexander Lemon, said the renewal of the Phalombe Licence is a strong validation by the Government of Malawi of Mkango's strategy and progress at Songwe where the company has invested funds to advance the project.
"We have received support from government ministries, departments and other stakeholders and we hope we will continue working together so that the project can move faster and foster capacity building and collaboration between Malawi and the international community," Lemon said.
Mkango completed an updated pre-feasibility study for Songwe Hill in November 2015.
As part of building exploration expertise at the Phalombe project, Mkango Resources brought into the country international geology and geophysics experts under the HiTech AlkCarb project.
According to Lemon, the visit was relevant to Mkango as it offered an opportunity to better understand the potential for large but unexploited mineralised bodies of carbonitite on either a prospect or regional scale.
"Based on work to date, such targets within the Phalombe Licence may include the summit of Songwe hill and the Nkalonje vent system, where, in both cases, outcrop is largely fenite (altered country rock) with occasional carbonatite, but there may be potential for underlying and larger zones of mineralised carbonatite.
"Rare earth mineralisation and mineral assemblages for both the fenite and carbonatite will be evaluated in the context of the geophysics covering the areas, to further assess their potential as future drill targets," he said.
(Visited 35 times, 35 visits today)
Latest posts by Vanessa Banda
(see all)