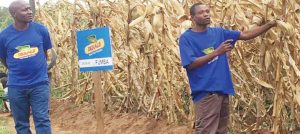 Monsanto unveils weather insurance | The Times Group
Monsanto says it will from this year introduce an insurance policy on its seeds which will hedge farmers from adverse weather conditions.
Monsanto Malawi Sales Officer for the South Dennis Kachikho said this at Mbulumbuzi in Chiradzulu during a field day the company organised.
Kachikho said the company realises that times are hard and that sometimes crop failure could result from a number of factors beyond the control of the farmers such as erratic rains.
He said Monsanto has partnered a Kenyan company to ensure that farmers in Malawi are protected in the event that seeds fail to germinate.
"Through this initiative, customers buying Monsanto seed will from this year be protected from these external shocks," Kachikho said.
He said customers will be required to send the secret number on any pack of seeds via SMS adding that the company will be able to get details such as name and place as well as planting date.
"From these details, we will be monitoring via satellite the weather patterns in various localities and see if areas are receiving normal rains.
"Where we see that the area has not received rains for up to 21 days after planting, the customers will be advised to go and get another pack of seeds free of charge," Kachikho said.
He added that the company will from this growing season change its seed packaging as one way of dealing with counterfeits.
"We are introducing new packaging material made is South Africa to deal with counterfeits as some unscrupulous traders were packing fake seeds in bags similar to ours," Kachikho said.
Blantyre Agricultural Development Division Deputy Programme Manager Erick Haraman hailed Monsanto for introducing the seed insurance.
Haraman said such an initiative will help ensure food security in Malawi.
(Visited 17 times, 17 visits today)
Latest posts by Vanessa Banda
(see all)