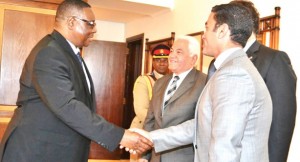 More Egypt interest in Malawi's tobacco
Egypt's major buyer of Malawi tobacco, Eastern Company, says once its cigarette manufacturing plant is put in place, Malawi will see increased earnings in tobacco exports.
Eastern Company through New Valley Company is expected to invest over US$250 million in a cigarette manufacturing plant in Lilongwe.
New Valley Company supplies raw tobacco through annual tenders for the Eastern Tobacco Company which is government-owned.
New Valley Chief Executive Officer Ahmed Moniem said the company has from the period 2004 to 2014, imported a total of 96.4m kilogramme of tobacco from Malawi with total earnings at US$371 million.
He said the earnings from the Malawi tobacco will increase as the country will now be able to export a finished product instead of raw tobacco.
He said New Valley helped in the coordination of the memorandum of understanding between Malawi Leaf and Egypt's Eastern Tobacco for a cigarette manufacturing venture in Malawi.
He said the company is seeking to transfer the global expertise and unique and distinctive experiments in the smoke industry to the continent with a view to strengthening national leadership and making direct and positive impact on the national income and economic performance for all the countries of African Unity.
"This step comes as confirmation of the depth of relations and ties of interdependence between Egypt and all African countries in general and the state in particular Malawi. We look forward t o creating employment and increasing forex revenues for Malawi," he said.
Apart from Eastern Company, other Egyptian companies that imports tobacco from Malawi include El Nasr Export and Import, El-Nakhla for tobacco and El Hennawy Tobacco Company.
In return, Malawi imports fertilisers and other preserved food products from Egypt.
(Visited 19 times, 19 visits today)
Latest posts by Vanessa Banda
(see all)