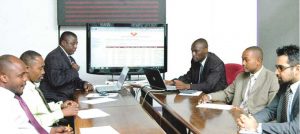 More money outside banking system— Reserve Bank of Malawi
Reserve Bank of Malawi Governor, Dalitso Kabambe, says it is worrying that enormous amounts of money are outside the formal financial system.
He was speaking in Blantyre during a Malawi Stock Exchange (MSE) symposium held under the theme 'Creating Wealth and Value through Listing'.
Kabambe said the country has over K900 billion outside the formal financial system, against around K417 billion in the banking system.
"The question we need to ask ourselves is: what is all this money doing out there? Is it earning any interest? We need to find ways of bringing this money into the formal financial system.
"I believe the MSE provides a good avenue through which this money could be invested so that Malawians reap the fruits in form of dividends and capital gains," Kabambe said.
He urged local companies and government departments to consider listing on the stock market to raise funds to boost their businesses.
Kabambe said he believes the development of the stock market is critical to the growth of the economy, which is currently on a recovery path after Cashgate and back-to-back years of floods and drought.
Currently, the stock market has 13 companies; the last listing was in 2008.
Apart from two companies delisting on the bourse in the past nine years, another significant notable tiding has been two rights issues by Mpico and NBS Bank over the period.
Around 2009, the market introduced an alternative exchange for small and medium enterprises that could not meet stringent listing requirements of the main bourse.
However, not a single firm has listed on the alternative platform since its introduction.
Malawi Stock Exchange Chairman, Augustine Chithenga, attributed the listing drought to fear of the unknown among local firms.
(Visited 86 times, 86 visits today)
Latest posts by Vanessa Banda
(see all)