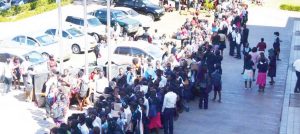 More people likely to be jobless this year
A new report released by the International Labour Organisation (ILO) has forecast global unemployment to rise to 5.8 percent in 2017 representing an increase of 3.4 million in the number of jobless people.
The number of unemployed persons globally in 2017 is forecast to stand at just over 201 million — with an additional rise of 2.7 million expected in 2018 — as the pace of labour force growth outstrips job creation, according to the ILO's World Employment and Social Outlook Trends 2017.
The ILO says economic growth continues to disappoint and underperform and thereby painting a worrisome picture for the global economy and its ability to generate enough jobs.
And there are fears that unemployment may also likely escalate here in Malawi if nothing is done either to promote private sector development for employment creation or support skills development to create a workforce that is able to employ itself.
In the past year, industry was hit by various economic challenges ranging from persistent power outages to high interest rates that forced many to cut down operation or shut down operations completely and in the process rendering many jobless.
And some economic commentators feel that government must now do something to establish new curricula at both secondary and tertiary levels to reflect changes happening in the labour market.
According to newly elected Secretary General of the Malawi Congress of Trade Unions, Dennis Kalekeni, the education sector is inclined towards white collar jobs, yet the economy is not presenting a good environment to stimulate employment creation.
"Government is not doing enough to support technical colleges. The idea is good but it needs to be harnessed because if this is not done, people will still be looking for white collar jobs," he said.
Kalekeni foresees the situation becoming more hostile for the country if many people continue to be left of the job market.
"If we fail to improve the figures, we will see more vagabonds being created as people try to survive on minimal resources," he said.
Government established community colleges to deal with the unemployment crisis but some stakeholders have asked government to adopt other short-term measures to address the situation.
Secretary General of the Communication Workers Union, Hamilton Deleza, notes that general unemployment will continue to worsen in the country because of the huge gap between people being added to the labour market against those that are being absorbed.
Deleza said the economy is failing to generate enough jobs because Malawi is failing to invest in the right industries to stimulate employment.
"The manufacturing sector is not ticking and, as a result, there are no jobs. So it is about identifying which sectors to invest but at the moment, it seems, as a country, we are not really sure where to invest," he said.
According to Deleza, Malawi needs to adopt a holistic approach to bring down unemployment figures.
"The community colleges agenda is a long term approach but we need to also identify other sectors that can help to generate more jobs for our youth," he said.
Government allocated K9.7 billion to the Ministry of Labour in the 2016/2017 national budget, a large chunk of which will support technical and vocational training under government's community colleges programme.
But stakeholders are faulting government for focusing much of its attention on community colleges while neglecting to fund the core function under the mandate of the Ministry of Labour.
Government, however, justified the amount of money channelled to the Ministry saying the allocation is relevant considering the pressure to implement the budget in the absence of significant external support.
Former Principal Secretary in the Ministry of Labour, Patrick Kabambe, insisted that the Ministry will be able to deliver on some of the key priority areas under its mandate.
In 2016, President Peter Mutharika abolished the Ministry of Sports adding it to the Ministry of Labour as one ministry.
Experts said government's decision to add the portfolio of sports to the Ministry of Labour may compromise Malawi's job creation agenda.
The experts questioned government's basis for the change arguing that the Ministry is perennially underfunded and that adding another portfolio would only serve to make it even more difficult for the country to improve its unemployment statistics.
In an interview after the changes were announced, Labour Activist, Luther Mambala said the Ministry [labour] is considered key to economic growth by most governments and is given dedicated staff and resources to oversee it.
Mambala was sceptical of the new arrangement working pointing out that the Ministry is already under pressure to execute its core mandate of overseeing employment creation and adherence to labour standards.
When he came into power, President Peter Mutharika elevated the Ministry of Labour to be among his government's priority ministries. But experts have been blaming the government for not investing in the Ministry enough resources to stimulate employment creation.
(Visited 1 times, 1 visits today)
Latest posts by Vanessa Banda
(see all)