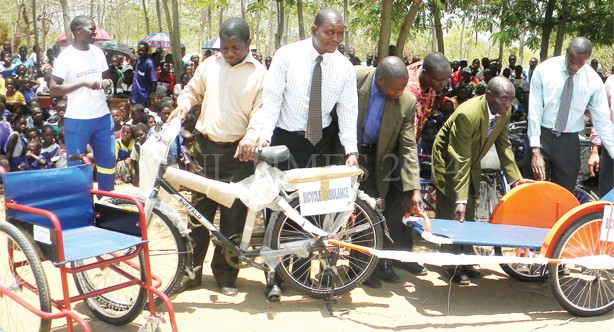 Mota Engil Donates Items To Achieve Their Social Responsibility
Mota Engil Company has donated assorted items to five districts in the country where the Kachaso-Nayuchi railway line project has passed through.
The items included bicycles, ambulance bicycles, plastic chairs, assorted medicine, stretchers, exercise books and chalk and were given to the districts of Mwanza, Neno, Balaka, Blantyre and Chikwawa.
The handover ceremony took place last Wednesday in Traditional Authority Symon area in Neno.
Mota – Engil Projects and Production Manager Emmanuel Chimtengo said the company two months ago promised to give back to the communities in the areas they are working.
"What we are giving today is what was promised some two months ago. This is part of our corporate social responsibility and we are doing it in two phases at a cost of K140 million," said Chimtengo.
Chimtengo said the donation has nothing to do with the wrangles currently going on especially in Mwanza and Neno where communities are blocking the roads to stop the construction works.
"The blockages are a different issue altogether. This is something we promised the communities and in due course we will also do the second phase of the donation which will include grading of some roads and electrifying some projects," he said.
Member of Parliament for Neno south Mary Khembo said Mota has done a good job by living up to its promise.
She said the donation will assist the members of the communities in different ways and will also help improve their lives.
"We are very happy to receive this donation and I urge the district councils to make sure that they reach the intended beneficiaries," said Khembo.
She said, however, that the constituency also needs assistance in infrastructure network and acknowledged Mota Engil's promise to grade one of the roads in her constituency.
Latest posts by Vanessa Banda
(see all)