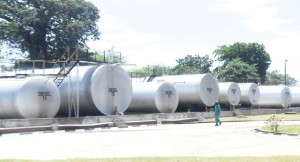 MPs back PIL on fuel imports
Preliminary recommendations from the Parliamentary Committee on Natural Resources, Environment, Energy and Climate Change support the maintenance of a private sector entity for bulk importation of petroleum into the country.
This is in contrast to proposals from the Ministry of Natural Resources, Energy and Mining and the Malawi Energy Regulatory Authority (Mera) for a shift in the task from the private sector consortium, Petroleum Importers Limited (PIL), to state-owned National Oil Company of Malawi (Nocma).
The parliamentary committee's vice chairperson, Alex Major, said in an interview that following visits to some countries in the region and meetings with various players in the country, its findings so far support bulk procurement of fuel for the country by the private sector rather than the government.
"Our findings so far are that tasking government to do the importation is not the best way. However, we are still reviewing the situation and we are yet to come up with a final report," said Major.
Some members of the committee visited Botswana and Namibia two weeks ago while another team is currently in Tanzania from where they will proceed to Zambia on study tours aimed at learning at how other countries in the region handle fuel importation.
Major said in Botswana and Namibia, it is the private sector that is responsible for fuel importation and that the two countries have some of the well run and efficient fuel importation systems in the region.
He said government agencies in two countries are only tasked with the responsibility of managing fuel strategic.
Major said findings from the second team visiting Tanzania and Zambia will be consolidated with those of the first group and will reviewed together from where a final report compiled.
"Once we come up with our final report will be we will sit down with government officials and the Malawi Energy Regulatory Authority (Mera) before making recommendations on the way forward," said Major.
A task force that was commissioned by the government earlier also visited Tanzania and Zambia from where they recommended that Malawi should introduce a bulk procurement system of fuel and shift the responsibility to Nocma from PIL.
Meanwhile, the parliamentary committee group, which left for Tanzania over the weekend, is also expected to inspect Malawi's fuel reserves at the port of Dar es Salaam which have been idle for over ten years now.
The committee wants to find out why the reserves, owned by Malawi Cargo Centres, are idle and have not been maintained for some time.
Malawi also has fuel reserves at Chilumba in Karonga, at Chipoka in Salima and in Mchinji which have been idle since 2000 when the then government-owned Petroleum Control Commission (PCC) was dissolved.
Government last year invested over US$25 million in the construction of fuel reserves in the country's three major cities of Lilongwe, Blantyre and Mzuzu as replacements to the idle reserves.
The storage facilities, which will be managed by the state-owned Nocma, have the capacity to store a total of 60 litres of fuel for the country
(Visited 2 times, 2 visits today)
Latest posts by Vanessa Banda
(see all)