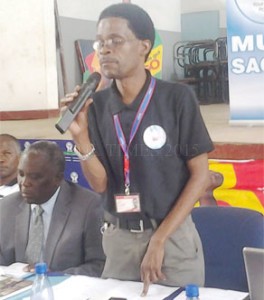 Mudi Sacco profit jumps 207%
Mudi Sacco profit jumps 207%
One of the country's Savings and Credit Cooperatives, Mudi Sacco, has posted an aftertax profit of K20 million for the year ended December 31, 2014 up from K6 million in 2013.
Mudi Sacco Chairperson Duncan Mlanjira disclosed this at Chichiri Secondary School in Blantyre on Saturday during the Sacco's annual general meeting.
Mlanjira said the profit jump was due to good strategies put in place by the Saccos board of directors and management.
He said the profit surge was recorded despite a marginal membership shrink from 4000 in 2013 to 3900 in 2014.
Mlanjira said the policies implemented resulted in a major reduction in delinquency from six percent in 2013 to two percent in 2014.
Looking into the future, Mlanjira said the Sacco has set its sight on growing its membership by 40 percent this year.
He added that the Sacco would this year also focus on growing its capital base from K213 million to K288 million, in addition to implementation of a fully computerised system at the Sacco.
During the AGM members agreed to share K13 million in form of dividends. Registrar of Cooperatives in the Ministry of Industry and Trade Kalimwayi Kenneth Matupa, who was the guest of honour during the AGM, hailed Mudi Sacco for being among the first Saccos to conduct an AGM this year.
He also hailed Mudi Sacco for being the third Sacco to be awarded a licence by the Reserve Bank of Malawi. Currently, only eight Saccos are licenced with RBM and six of them are from Chapter One, a grouping of Saccos in the Southern Region.
Matupa said government values the contribution of Saccos in the growth and development of the country.
"If private sector is dubbed the engine for economic growth then cooperatives are the fuel for that engine," said Matupa.
Latest posts by Vanessa Banda
(see all)