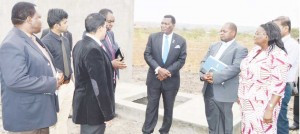 Multi-billion lab to boost export potential
Government is banking on the multi-billion Standardised Quality Assurance and Meteorology (SQAM) laboratory under construction in Blantyre to boost exports.
Speaking when he visited the construction site in Blantyre earlier in the week, Minister of Industry, Trade and Tourism Minister, Joseph Mwanamvekha, said he was happy with progress made so far.
The complex, whose construction started in January 2016, is expected to cost K18 billion.
Mwanamvekha said the completion of the project will help Malawi to significantly improve on its standards thereby boosting exports.
"As government, we are impressed with progress on the project and we are confident that the complex will be ready come 2018," Mwanamvekha said.
He said the laboratory complex will help to save forex as the tests that are currently being done in South Africa and other countries will be done in Blantyre.
This, according to Mwanamvekha, would help accelerate the process of transforming the economy from a predominantly importing and consuming country to a producing and an exporting one.
MBS Director General, Davlin Chikazinga, said the absence of such a high quality laboratory created a barrier to trade on the part of Malawi resulting in poor or no participation on the international market.
(Visited 64 times, 64 visits today)
Latest posts by Vanessa Banda
(see all)