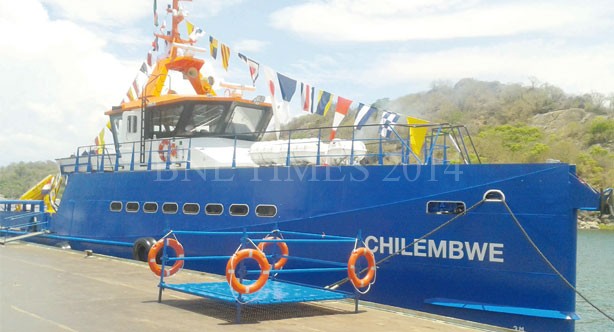 MV Chilembwe sails in January
Mota Engil, through its subsidiary, Malawi Shipping Services, has finally unveiled the multi-billion modern vessel MV Chilembwe which is expected to start sailing on the waters of Malawi next January.
The ship, which was fully assembled at the Monkey Bay ship yard has a capacity to take 120 passengers and 20 metric tonnes of Cargo.
It is estimated to have cost Mota-Engil about US$8 million (equivalent of K4 billion) to become the first locally built ship of its size.
Mota Engil Managing Director Jose da Silva says his company has made an investment of about K6.6 billion to bring to shape its fleet of vessels and construction of the newly launched MV Chilembwe.
However, da Silva says despite the company being given concession by the Malawi Government to operate vessels and the ports on the lake to revamp the water transport system in the country, they were still facing problems with the regulatory environment.
"The regulatory framework in water transport and its enforcement regime needs to be improved in terms of professionalism and efficiency as the status quo allows for unsafe vessels and illegal operations.
He added that the Malawi Shipping Company was working to ensure that there is fair competition and a water transport sytems that will serve Malawians better while at the same time boosting the economy.
"Our suggestion is that government should consider using the concession fees that Malawi Shipping Company pays to support safety structures on the lake," he said.
Da Silva hinted that the company is not enjoying business on cargo as the road transport is still difficult to manoeuvre.
In his remarks, Minister of Transport and Public Works Francis Kasaila commended Mota-Engil for their investments in Malawi's water transport system.
"While it is true that companies are not making full use of this cheaper transportation there is improvement so far. There are a number of agreements to serve various companies with the vessels and things are improving so far but it will take some efforts and efficiency to attract more business," Kasaira said.
Mota Engil won concessions to operate ports and provide vessels for water transportation which has gone down due to unfit port facilities and vessels.
It was fully built at the Monkey Bay shipyard to become the first 100 percent locally built ship of its size.
Latest posts by Vanessa Banda
(see all)