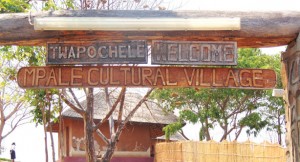 Mzimba models village tourism
Malawi government plans to scale up community based tourism following successes of the concept in three villages where it is being piloted in Mzimba, Rumphi and Salima.
Director of Tourism in the Ministry of Information and Tourism, Patricia Liabuba said this when she toured Donija Village in Mzimba where villagers have f o r years been welcoming and hosting local and international visitors to sample their culture.
The tour was part of this year's tourism month which was launched in Nkhata Bay last week under the theme 'One million tourists- One million opportunities' modelled on Malawi's plan to hit one million high spending tourists per year by 2017.
The Malawi government has also handed over three kilometres of access roads to some hard to reach lakeshore areas in Nkhata Bay.
Liabuba said the theme provides an impetus for the players to do more and make  tourism meaningful to the lives of the ordinary people.
She explained that government wants tourism to benefit the local people in villages through the concept of community tourism.
"We want tourists to be visiting rural villages and sample our culture because this is what the tourists want and that is how people will benefit from tourism," said Liabuba.
Malawi Tourism Council executive director, Rosebill Satha Sambo, said the private sector is ready to embrace the community tourism concept as it has potential to increase tourism inflow in the country.
"If communities are not benefiting from tourism then the tourism sector becomes irrelevant to poverty reduction," Sambo said.
Donija Village has benefited from the community based tourism through income that has helped construct bridges, a teacher's house, two maize mills and other needs.
(Visited 9 times, 9 visits today)
Latest posts by Vanessa Banda
(see all)